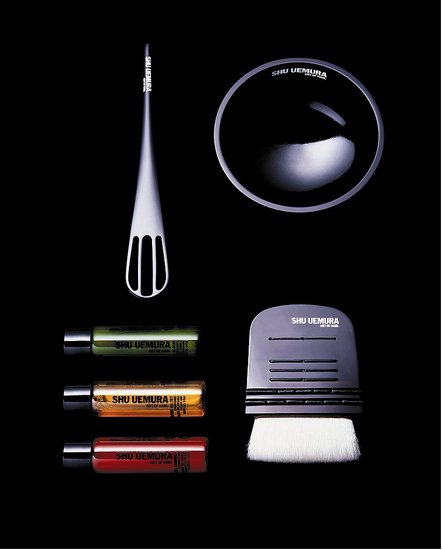 This past weekend, I went into Curious Salon and experienced Shu Uemura's Art of Hair Ceremony.  Shu Uemura has recently refreshed their hair colour collection, and the Art of Hair Ceremony is one that can only be experienced at a salon.  It is based on a traditional Japanese Tea Ceremony, and has a nice blend of tradition and new-age ritual.
The ceremony can be broken into 2 parts – one for the hair and another for the scalp.  The scalp ceremony is moisturizing and involves massaging a blend of oils on to the scalp, and the hair ceremony can be customized to treat different hair conditioners.  My treatment was moisturizing, because my curly hair is so dry.  The other options are Repair, Volumize, Shine, and for Aging Hair.
The scalp ceremony was the best part of the treatment – it was so relaxing and invigorating at the same time, and I really enjoyed the refreshing Fuyu scent that smelled like a blend of eucalyptis and rosemary.  The hair treatment was applied section by section with a goat hair brush that's very much based on the traditional brush that geishas use to apply their makeup.
At the end of it all, my hair was moisturized, soft and super shiny.  I could see and feel the effect of the treatment not just immediately after the treatment had been done, but even after I had shampooed my hair.
The Art of Hair Ceremony is only available at select salons throughout Canada.  The brand is planning on expanding the number of salons that offer the treatment, but they're being selective about the salons that they're choosing, so you can expect that this treatment will be offered at only the best salons.
Curious, which is here in Calgary, was fantastic, and the blowout that I received after the treatment was amazing.  My hair was full but very smooth and still had a hint of curl at the end which is how I like it.
The Art of Hair Ceremony can be done with any other service at the salon as a conditioning treatment; however, you cannot get a scalp treatment and hair colour on the same day because the oils in the scalp treatment would interfere with the hair coloring process.  You can find out more abou tthe treatment and find a salon close to you from the Art of Hair website.
I'm also using the Art of Hair shampoo and conditioner at home… more on that later.