This summer, #gonudewithshu.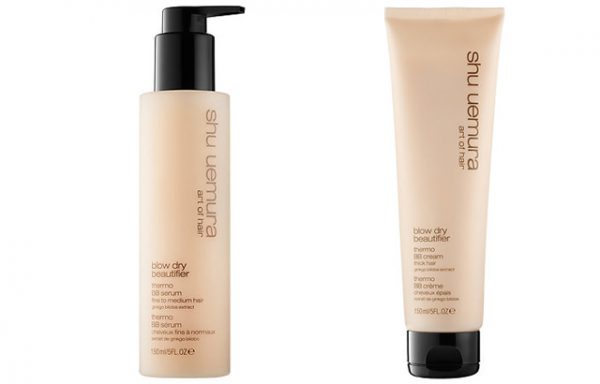 Blow-drying your hair doesn't have to be a chore, and Shu Uemura has two new products that make it easier.  The new BB Blow Dry Beautifiers help hair dry faster and smoother, but still have it look natural.  It's like BB cream for the hair because of the multitude of benefits that provides: it makes hair smoother, more shiny, easier to style by adding some slip, and even protects it from heat.
The BB comes in two variations: a thinner lighter lotion for fine hair (in a pump bottle), and a thicker cream for more coarse hair (in a squeeze bottle).  Truly, I have fine hair but because it's so frizzy, I like to use the cream and mix in some serum with it.  It's a little heavy if I air dry my hair, but if I'm blow-drying and using a straightener, then it's perfect and my hair looks and feels perfectly smooth.
They also enable you to perfect your hair – if you make a mistake you can add more heat and fix it so your hair gets the perfect shape and can be re-shaped if you need.
Available at Shu Uemura salons and online at
shuuemura.ca
. $42.