Get your makeup brushes ready, because next week, on March 8th, Shu Uemura is launching their Beauty Art Makeup Competition. Check out the details below which were sent from the brand.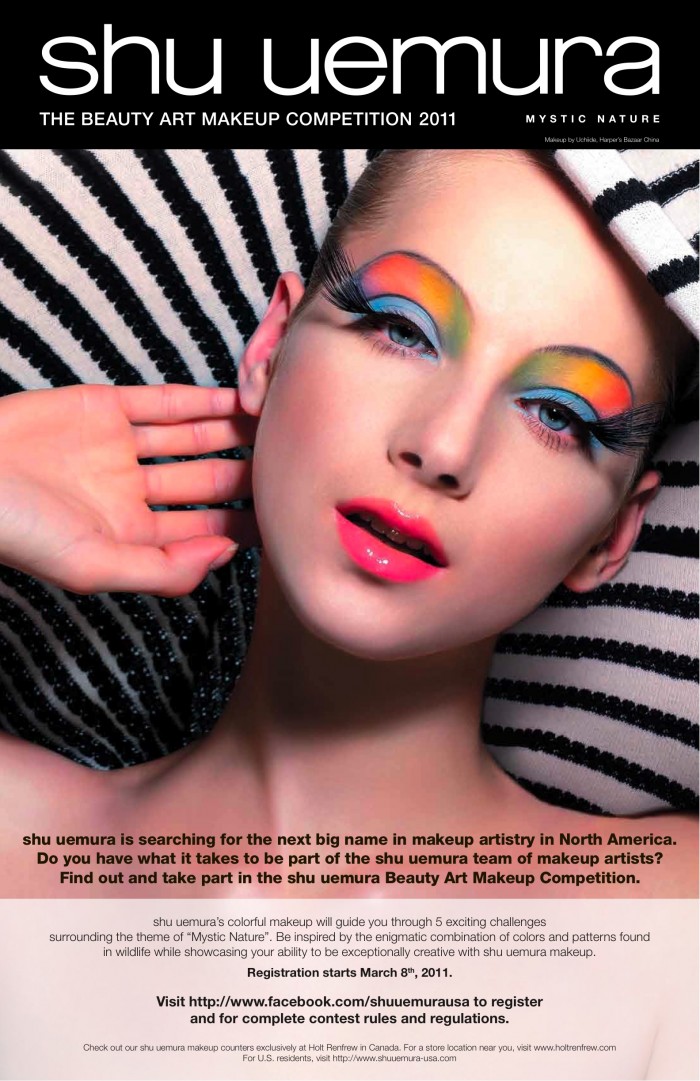 "shu uemura is searching for the next big name in makeup artistry in North America.
Do you have what it takes to be part of the shu uemura team of makeup artists?
Find out and take part in the Beauty Art Makeup Competition.
Mr. Shu Uemura, the legendary makeup artist and beauty pioneer, made history by introducing the first
makeup competition in 1972. Today, the international competition continues to exhilarate, motivate and
inspire participants to go beyond common techniques. We are proud to announce the 1st North American
shu uemura Beauty Art Makeup Competition under the theme of Mystic Nature.
Starting March 8th, 2011, upcoming industry talent and aspiring makeup artists can register for a
chance to participate in the competition. Amongst all applications received, a panel of judges will select
20 outstanding artists. They will take part in the 1st shu uemura North American Beauty Art Makeup
Competition by completing 5 makeup challenges with videos posted on the shu uemura Facebook page at
http://www.facebook.com/shuuemurausa
The 20 finalists will have to create unique looks that will demonstrate their artistic talents and showcase their
potential to be an exceptionally creative makeup artist. By voting for their favorite looks, Facebook fans will
ultimately select their 5 favorite contestants.
On June 14th, 2011, the 5 selected finalists will have the chance to attend Luminato, Toronto Festival of Arts
and Creativity, where they will complete the final makeup challenge during a live event in Toronto, Ontario.
Only one lucky winner will be selected by a jury of industry professionals during the live event. The winner
will become a member of the shu uemura Makeup Artist team and will represent the brand in North America.
The theme for this year's competition is "Mystic Nature". Allow your imagination to be influenced by the
enigmatic combination of colors and patterns found in wildlife to expose the irrefutable beauty that nature
reflects. "
Visit http://www.facebook.com/shuuemurausa for contest registration, rules and regulations.
Check out our shu uemura makeup counters exclusively at Holt Renfrew in Canada.
For a store location near you, visit www.holtrenfrew.com
For U.S residents, visit http://shuuemura-usa.com