I have to admit, I'm a bit in love with cleansing oils. I think they're wonderful, because they do a fantastic job of clearing skin of excess sebum, makeup and general grime without drying it out.
Additionally, it's also nice for travelling because it's excellent for acclimatizing skin to different climates.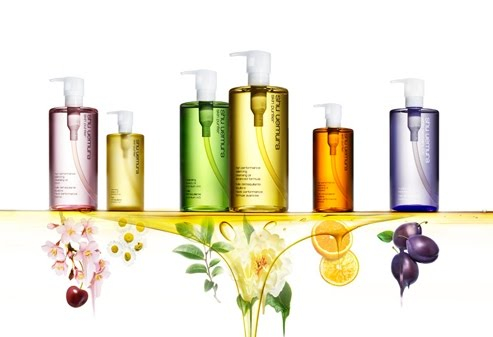 My cleansing oil obsession started with the Shu Uemura line of Cleansing Oils. At the moment, there are six different oils you can choose from, each one formulated for a different skin concern. They are available in 150ml and 450ml sizes. And okay, they're not exactly drug store cheap, but the 150ml will last you at least 3 months, and the 450ml will last at least a year.
6 types of Shu Uemura cleansing oils:
Classic/Advanced Formula: The Classic cleansing oil is the best for people who don't have any major skin concerns. While all of the cleansing oils will balance the oil and water content in your skin, this one is specially formulated to do so, and is perfect for normal skin because it's a deep cleanse that won't leave skin tight or dry. The oil consistency is perfectly balanced between light and rich.
Fresh: Fresh is the pink bottle, and contains cherry extract to help tighten pores. It's the lightest of the 6 cleansing oils, and is really only recommended for excessively oily skin. For those who have skin that often has sheen on it from excess sebum, or constantly have to re-powder, this is the oil for you. Fresh has the lightest consistency of all the oils.
Enriched: Enriched is the orange bottle, and is really, really nice for Canadian winters. It smells like a warm pumpkin pie, and is formulated for dry skin. Enriched contains orange peel, tomato and red pepper extract, which some people are allergic to. The idea of red pepper in a skin care product seems to scare people off, which I think is a fallacy because red pepper is actually fantastic for boosting a dull complexion. It helps to promote blood circulation. Enriched has the richest consistency of all the oils.
Premium A/O: A/O is the green bottle, and contains green tea extracts for their antioxidant boost. Apart from that, it works similarly to the Classic cleansing oil in that it works well for all skin types. A/O has a pretty green tea scent that is beloved by many. If your skin is sensitive, this one is probably not your best bet because people sometimes react oddly to the green tea extract in A/O. A/O, like Classic, has a consistency that is balanced between light and rich.
Premium A/I: A/I is formulated for sensitive skin, and contains liquorice root and camomile to soothe easily irritated skin. A/I has a nice chamomile fragrance, and is nice if you've never tried cleansing oils before because it gives you that chance to get used the oils without any adverse reactions. A/I has a richer consistency than Classic, but lighter than Enriched.
White Recovery EX: My personal favourite of all the cleansing oils, White Recovery EX contains Prune and Sakura Leaf extract to help brighten and soften skin. Realistically, it's probably not going to do anything to whiten your skin, but after use, skin immediately seems brighter and more clarified. White Recovery EX also contains a cooling agent. The texture is lighter than Classic, A/O and A/I, but is slightly heavier than Fresh.
How to use Cleansing Oils:
• Take 2-4 pumps of oil, and massage gently onto dry face. 2 pumps, if it's first thing in the morning and there's not a whole lot on your skin, 3-4 if you're removing makeup.
• Wet hands with a little warm water and massage face gently You'll notice the oil start to turn into a light milk, or emulsify. This is the action that will break down the oil, makeup, and other grime on your skin. . Do not immediately rinse your face, or trying to emulsify the oil in your hands.
• I like to keep rinsing my hands and emulsifying until the oil is very milky, and no longer has an 'oily' consistency. This is best if you don't want residue left on your skin, but once you can feel your bare skin under the oil, you can just rinse with warm water.