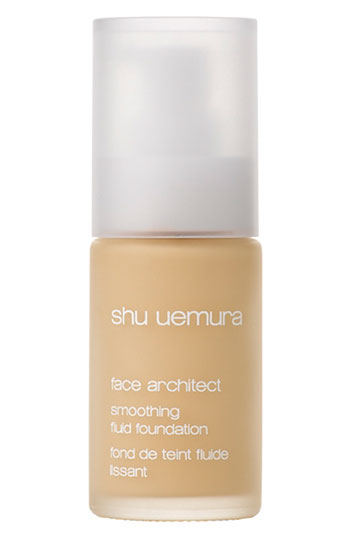 I am not a foundation kind of girl. It's really for the same reasons as every other anti-foundation girl; I hate the mask-like feel on my skin, hate that foundation tends to rub off on all and any surfaces.
That being said, I love Shu Uemura's Face Architect Foundation. It has a light, fluid consistency that is very build-able, so you can get the appropriate coverage in the right places without the cakey patches that sometimes appear throughout the day with other foundations.
The other lovely thing about Face Architect Foundation is that it is tested primarily on Asian skin, which, among other things, means that for all you olive-toned girls out there, you'll have an easier time finding the appropriate shade. (No more pink or orange lines!)
The foundation, like every other Shu Uemura product is formulated with Depsea Water, which is a very hydrating, sterile water that is drawn from ocean depths. It contains over 60 minerals that will help to keep your skin pretty, AND cover imperfections without being drying.
Shu Uemura Face Architect can be found at select Holt Renfrew locations in Canada.