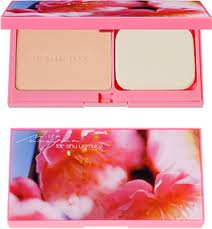 Shu Uemura's Face Architect foundations are cult products – they have die hard fans because the foundations pretty much melt into the skin and look totally natural.
They say that the Face Architect Glow Powder Foudation "achieve the finish of a liquid foundation with the convenience of a fine textured powder foundation."
I gotta say, that it's not really true. This is a true powder foundation, that you apply with a brush, and like most powder foundations, it takes some time and effort to build adequate coverage.
However, I have to say that I like the foundation and find myself reaching for it on the weekends. It provides medium to light coverage, and can be applied with a brush or a sponge. The powder is really nice and smooth but seems to sit on top of the skin until it warms up to it. It does provide long-lasting coverage, and I enjoy wearing it, but it just doesn't perform like my favourite liquid foundation. It doesn't even perform as well as most mineral makeup powders.
This can absorb shine and be used with a fluffy brush for touch-ups, so it's a great powder to take on vacation with you.
Shu Uemura sells this powder on its own, and the compact it comes in separately. The compact is refillable, which is great because it decreases overall waste.
The powder foundation retails for $33 and the compact is $13. For the summer, this comes in a trendy floral compact which is ever so pretty, though I do prefer the classic black colour. It's the perfect time to introduct the powder in new packaging, because powder foundations are the way to go in the summer!
For Canadians, the Shu Uemura counter is at Holt Renfrew.