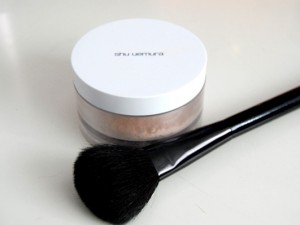 I work as a makeup artist. I've seen, and tried to apply makeup on just about every type of skin ever, and I have a bit of a love/hate relationship with face powder. Of course, foundations need to be set so they don't move around, but people who have dry or mature skin often get that cakey, makeup-y look with powder, which is not so nice.
My favourite loose powder is Shu Uemura's Face Powder Sheer. Seriously fabulous stuff. I know it's not just me because it's been raved about by everyone from Instyle magazine, to clients that I've used it on.
It's super finely milled, to the point where it feels velvety, not powdery. It can be applied with a loose powder brush for a super fine finish, or with a puff (which is what I like to use for setting.) It doesn't add any colour to most skin tones, which is nice because it doesn't detract from the colour of your skin or foundation.
The powder also photographs well, and doesn't add a white cast to skin if you're using flash. It can be layered over and over and over again if you need to touch up.
Now that I'm done raving about the powder, let me tell you that there are a few cons. The first is that it is a loose powder, and therefore is messy and generally not made to be  travelled with, or moved around a great deal. This means that you can't really throw it in your purse and use it to touch up during the day.  Also, if you're using the puff that comes with the powder, it does tend to pick up rather a lot of product, so do make sure you're taking off the excess by rubbing the puff together so you're not wasting a ton of product.
The Face powder sheer also comes as Face Powder Matte, which is the recommended version for oilier skins.