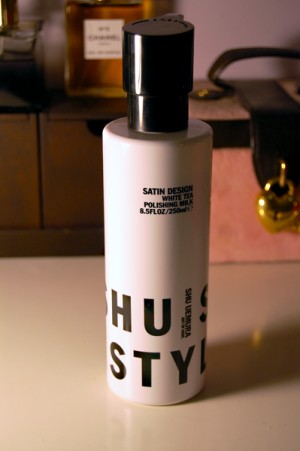 Shu Uemura products are generally splurgy, impulse buys for me. Why? Because usually, you can't go wrong. Nearly everything I've ever purchased from Shu Uemura is awesome and gets used right down to the last drop.
I'm sort of a Shu Uemura junkie, needless to say.
This of course, was no different. Normally, I wouldn't buy a milk for my hair because the ones I've tried have been far too heavy, weighing down my hair and making me feel like my hair is in desperate need of a washing about halfway through the day.
The Shu Uemura White Tea Polishing Milk was nothing of the sort. It's super light and extremely conditioning which means no static or frizz in the middle of the day. It gives you the kind of texture that you imagine hair models would have, silky, bouncy and ultra shiny.
It smells creamy, soft and flowery. I have yet to hate any of the smells of Shu Uemura Art of Hair products actually, to the point where I think they should be bottled and sold in perfume form.
The Polishing Milk also offers heat protection and is safe on colour treated hair.  I would most definitely recommend this with winter coming up. Apart from smelling fantastic, it will also help protect you from the dreaded frizz that is inevitable with winter-weight sweaters and jackets, and keep your hair from drying out from heat styling.
Shu Uemura Art of Hair products are a bit hard to find (only a few salons in Canada carry them), but I found this at Jerome Hair Salon in Calgary. Check the boutique hair salons in your area!