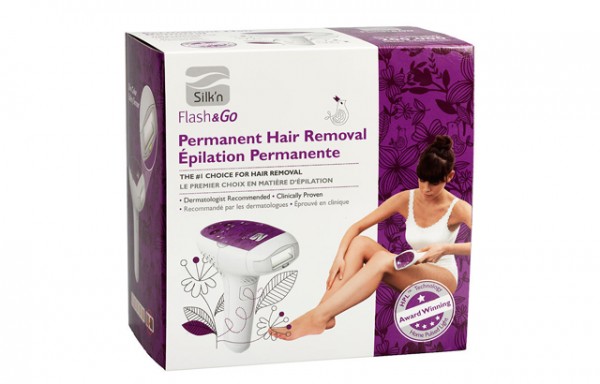 So for $229 you could do your own laser hair removal at home. That's what the Silk'n Flash&Go device offers you. If you've ever shopped around for laser hair removal, you know what a good deal this is.
I'll cut to the chase: does this at-home hair removal device really work? Yes, it does.
The flash of the light is strong enough that it feels just like a laser treatment at the doctor's office. In fact, if not used correctly, the laser has the potential to burn the skin as well.
But that's why the Silk'n Flash&Go comes with a built-in sensor that actually scans the area before each laser pulse to make sure that the skin is light enough to use the laser on.
Like regular laser treatments, you need to use this repeatedly to see long-term hair removal and reduction, and the results are not often permanent. You will likely need touch-ups once a year or so. But, just like other laser treatments, you will absolutely see a difference after your first treatment and you'll be so encouraged that you'll continue to use this.
The Flash&Go is slightly different than the original Silk'n Sens that came out a few years ago. It has an easy-to-hold handle that lets you keep your finger on the pulse so that you're emitting laser pulses regularly. There's also no annoying beep after every pulse so you can do your hair removal in peace. The machine is large but it works and it works really well.
Overall, the treatment does take a little longer to do. The system recharges after each pulse of light and if you're using it on the higher setting, then the recharging time is longer. It's only 2 seconds between each pulse, but if you've been to the doctor's office and seen how long it takes them to charge their laser, then you know that 2 seconds is a long time.
Still, in the time that it takes to drive to the doctor's office, get the treatment, and drive back home, you could probably do your treatment area a few times over. The machine is quick and easy to use, and worth every penny.
Pick it up and replacement cartridges at London Drugs.