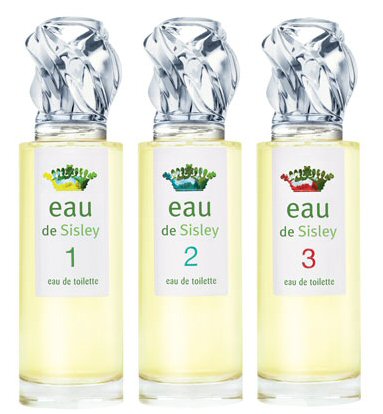 We continue to review scent collections – today with Sisley's collection of 3 eau de toilettes called Eau de Sisley.  None of the perfumes have been given a name.  They are only 1, 2, and 3, so that there's no way to really distinguish between each until you smell them!
Three fragrances were created so that women could have 3 Sisley scents to choose between depending on their moods.  Each scent was created by a different perfumer with guidelines from the house of Sisley.  All are chypres, as all Sisley scents are, because of the long-lasting quality of chypre scents and their freshness.
Eau de Sisley 1 has notes of green mandarin, grapefruit, pink pepper and spices.  At first, all I could smell was the mandarin and grapefruit and what sharp acidic smells they were, though there were still green and fresh.  Then, slowly, the pepper started to come through.  It really gave the toilette a crisp quality.  The scent smells slightly spicy because of the pepper but still fresh at the same time – think lemon and peppers growing in a fragrant forest – that's what I thought of with this scent.
Eau did Sisley 2 is my favourite.  It has notes of cardamom, bergamot, basil, water iris, Egyptian jasmine, cyclamen, rose, patchouli, vetiver, cedar and sandalwood.  It seems that I'm a sucker for anything with cardamom in it these days, and jasmine, rose, and sandalwood are already among my favourite notes.  I could definitely smell the vetiver in here right at the beginning (and I don't like vetiver) but it's not the lasting note in this scent, and I was glad for that.  The drydown is beautiful with notes of cedar and sandalwood, so you get a fresh, earthy, woodiness with this scent.
Eau de Sisley 3 is my least favourite.  Notes are: citrus, bergamot, mandarin, grapefruit, lemon, red ginger, osmanthus, patchouli, vetiver, benzoin, vanilla and musk.  What makes me dislike it is the note of ginger in the scent.  It's almost as if I can smell fresh ginger when I smell this, and although that can be a good thing, I just don't want to be reminded of the kitchen when I wear a scent.  This is the warmest of the three scents, and the vanilla in the base makes this a tiny bit sweet.
The scents were launched last year in 100 mL bottles retailing for about $180.  This year, due to customer demand, they are being offered in 50 mL bottles which will retail for $108, which means that they are now much more affordable, and perhaps that means that you can now get yourself all 3!
Sisley is available at Holt Renfrew stores across Canada.  If you're interested in their skincare, be sure to visit the counter and ask for samples – they carry samples of all their skincare throughout the year, because they know that their customers will be hooked once they try!