I adore clay masks because they absorb excess oil and make my skin look matte for the majority of the day.  When I saw that Sisley had a clay mask that also promised to leave my skin luminous, I had to try it.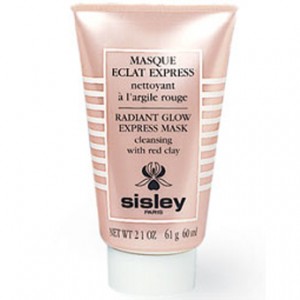 What I love about the Sisley Radiant Glow Express Masque is that it sets on my skin in just 5 minutes and then really leave my skin super clean-feeling.  I've noticed that after I wipe the mask off, my skin does look more refreshed and radiant.
The greatest thing about using  product that's high-end, like Sisley's, is that they really think about every aspect of the product – the scent of this mask is so relaxing and not at all over-powering.  It lasts just briefly on the skin and then fades away quickly.  The only thing that reminds you that you did a mask that day is the luminosity of your own skin!
The red and white clay that's in this mask provides the traditional oil-absorping facilities of a mask.  If you have skin that's combination or oily, use this on a regular basis (2 to 3 times a week) and you'll notice that your skin will have fewer blackheads and other blemishes.  It's a method that really does work and that's why it's always a part of a good regular skincare regimen.
You can purchase this mask and other Sisley-Paris products at Holt Renfrew stores in Canada.