The holiday season is our very favourite time of the year, despite the crazy weather that comes with it. We love attending parties and get-togethers, the delicious food, and getting to know our co-workers and neighbours a bit better.
But you see, there's this thing that happens with our skin when we're very excited – we find that it gets a little oilier than it should be and that's exactly what we don't want around holiday time.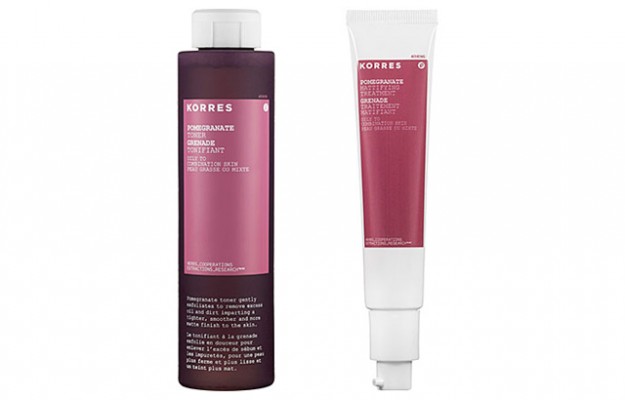 Thankfully, there's Korres' Pomegranate line to help save the day. Their Pomegranate Toner ($26) and Mattifying Treatment ($49) are made specifically for oily skin. Both contain mattifiers to help absorb excess oil and keep skin nice and matte. The best part is that not only will you see a difference on the first day you use it, but as you keep using it, your skin will just get better and better thanks to the calming witch hazel in both formulations.
I found that using both products helped my foundation stay on longer, and my skin looked poreless for longer than it usually would have. I'm not usually a stickler for using natural products, but this stuff really works, and the rice starch in the mattifying treatment worked better on my skin that silicone usually does.
Pick both up at Sephora.