Skin Republic is my favourite mask company because they make an amazing foot mask.  It actually has tons of lactic acid in it so that it exfoliates all the dead skin off your feet.  It looks gross as that happens – there's really no other way to put it – but the final effect looks better than a pedicure, lasts longer, and is actually cheaper, considering the mask costs just $16 (you can order it here).  I love it so much that I stock up on it if I'm ever at a Murale or Shoppers Drug Mart Beauty Boutique and it really works.
Sorry for that digression, but I just had to remind you about that mask – although it's better to use it in the winter when your feet have less of a chance to seeing the sun.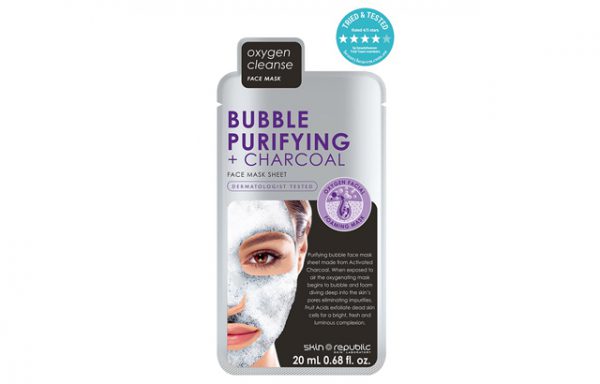 Now, Skin Republic has a new mask, and it's the Bubble Purifying and Charcoal Mask.  It's a black sheet mask that has cleanser on it that foams up when it's exposed to air.  As you let the mask sit on your face, it foams more and more, providing a relaxing tingling feeling to the skin as the tiny bubbles in the foam gently pop.
When you wash the mask off, you're left with really clean, gently relaxed skin.  It's a nice relaxing mask to do, and one that's great if you like to have your skin left clean, because the foam is essentially like a cleanser when you wash it off with water.  I love that residue left from the sheet mask washes off so easily and actually helps me clean my skin – although I did wash off all my makeup before using this mask.
You can get it online, or at Murale or Shoppers Drug Mart Beauty Boutiques for $9.