Winter isn't the only time your skin needs TLC; hot weather and humidity can bring a host of issues such as oiliness and clogged pores. The best way to relieve some issues and help you have the best skin possible is to use a mask, and after dealing with oily skin for years, I've picked the ones you absolutely must try.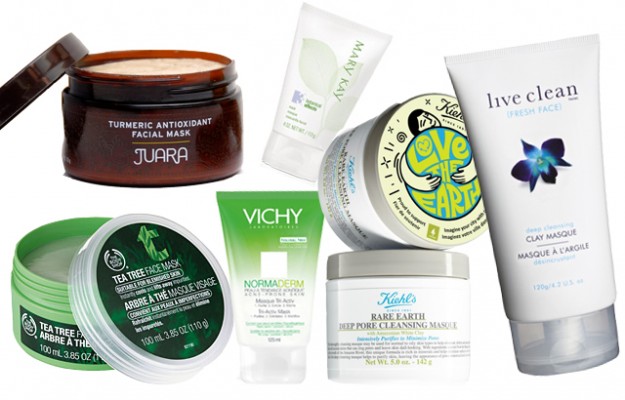 The first is The Body Shop's Tea Tree Oil Mask, an absolute requisite if you have acne-prone skin. I have tried all the tea tree oil products and they really work because of the high concentration of organic tea tree in them, so keep this mask on hand to keep skin clear and without issues. $15 at The Body Shop locations.
Another mask that's worth checking out, and also natural is Kiehl's Rare Earth Pore Cleansing Masque. It has Amazonian White Clay to draw impurities out of skin. The mask is also formulated with Aloe Vera and Oatmeal so it's gentle and perfect for soothing skin that might be irritated or sensitive. The clay mask makes skin more matte and makes pores look smaller too! While you're at it, get the limited edition jar that came out for Earth Day! It's $26 and 100% of the net proceeds go towards Evergreen, a not-for-profit organization that deepens the connection between people and nature to develop a sustainable long-term impact on Canadian cities.
If you're a Mary Kay kind of gal, check out their Botanical Effects Skin Care, Mask Formula 3 which is a basic formulation of clay but with an addition of antioxidants to leave skin fresher and brighter. Though the mask is basic, it works well at clarifying and absorbing impurities so you can have fresh and clean skin. Plus, it's just $14 at MaryKay.com.
While we're on the subject of antioxidants, Juara's Turmeric Antioxidant Radiance Mask is the one to use if you want something with anti-aging benefits. It has kaolin clay in it, but before that come glycerin as a moisturizer which will help moisturize skin and diminish fine lines. The mask has turmeric in it which is an ayurvedic ingredient used in Indian recipes to cure all sorts of skin ailments. The mask is more moisturizing than mattifying, but the addition of some clay means that it will leave skin clean and fresh but not stripped of moisture. Get it from theshoppingchannel.com for $35.
Meanwhile, Live Clean's Deep Cleansing Clay Mask uses an antioxidant that's closer to home: Vitamin C! The company is winning over customers one at a time (all my friends are now raving about Live Clean), and their latest addition is skincare products that are well formulated and gentle on the skin. The mask is 98% plant derived, and formulated with organic botanicals so it's perfect if you prefer your products to be more on the natural side. Check out the line at drugstores.
While all the masks need to be on the skin for 10-15 minutes, Vichy's Normaderm Tri-active Mask is perfect for those that don't have that much time. The mask only needs to be left on the skin for 5 minutes, and then can be scrubbed off. Because it has scrubbing mits in it, and foams while you wash it off, the mask is a treatment, cleanser, and exfoliator all in one. It's great for use on the weekdays when you might not have a lot of time for using a mask in your regimen. Available for $19.95 at drugstores.
The masks are all relatively affordable and so are an easy way to add a great treatment element into your skincare.  They are all gentle on the skin, and used regularly can help prevent breakouts before they even start.  Look for any kind of clay in the ingredient list, and even the cheapest cleanser can be one that works for you.