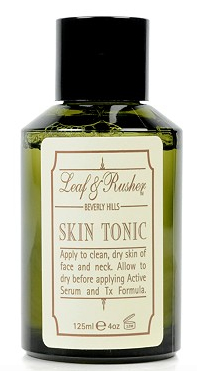 Lately, I have been using a range of skincare products from the Beverly Hills' first medical spa, Leaf and Rusher.
Before I talk about the products, I must say that the packaging of everything I've used has been absolutely beautiful.  The cleansers come in sturdy tubes, and the toner and skincreams are in glass jars that are bringing up the standard in my bathroom.  It's wonderful, I tell you.
The cleansers are very well formulated.
I'm using the green tea cleanser, and it's really just a very nice foaming gel that doesn't dry out the skin.
Twice a week, I have been following up with the Rapid Resurface cleanser.  The cleanser has a ton of tiny little sand-like beads in it and gives a very vigorous scrub to the face.  The first time I used it, I definitely went overboard and my face was quite red after using it.  Now, I just give a quick rub over all areas of the face, and then rinse.  My skin is so smooth and I really didn't have to do a lot to get it there.
My favourite part of the whole system is the Skin Tonic which is the toner.  I probably really like it because it comes in a heavy green glass bottle and there is so much of it that I can use it morning and night and a little bit is going a long way.  There's no alcohol or overwhelming scent, and it really does a good job of getting rid of residue!
You can get Leaf and Rusher products from TheShoppingChannel.com.  The Rapid Resurface is $45, the Skin Tonic is $47, and the Green Tea Wash is $35.  The products are not cheap but they are gentle, generously packed, and go a long way.