Have you heard of this phenomenon called bedside table skincare?  Or nightstand skincare?  Really, the idea is that even if you're too lazy to wash your face at the sink, and you just want to hop into bed because you're so tired, you can just keep some skincare options on your nightstand and use them before you go to sleep.  Ideally, these options are luxurious and effective so that you can take care of your skin while you sleep.
I don't have anything like that – my kids would dip into anything I left lying around, but I do have laptop skincare.  It's skincare I keep on a high shelf near my laptop so that I can use it when the kids are asleep and I'm sitting down to do some work or watch a bit of Netflix.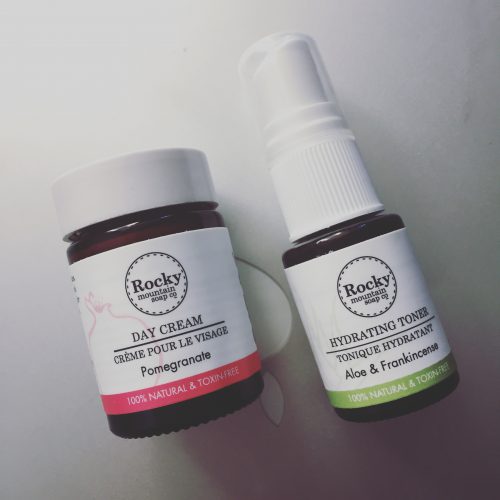 These days, what I'm keeping on hand is some skincare from Rocky Mountain Soap Company – check out their Hydrating Toner and their Pomegranate Day Cream.
Now, a word about their toner: it's one of the best options to leave on your bedside table because it comes in a spray bottle, and I've noticed that this is becoming more and more popular. You get the benefit of the toner on your face but without wasting a cotton pad.  It wouldn't work for everything, but what a concept.  You can totally put this toner on your night stand and just spray it on, wait for it to absorb a bit, and then follow up with a moisturizer to seal all the benefits in. The Aloe and Frankincense is soothing and hydrating because of the aloe, but smells amazing because of the frankincense.  Besides smelling good, frankincense has been known to improve cell health, can help take care of acne, reduces respiratory issues, and can delay skin aging.  Imagine all that in a spray bottle.  I also love the Tea Tree Toner from Rocky Mountain Soap Company because it's antibacterial and is fantastic for stopping breakouts in their tracks.
Then I follow up with the day cream which doesn't have SPF in it so I just use it at night.  It's creamy but light and doesn't make me break out.  
$13.50 for the travel sized toner, and $27 for the large size.  $35 for a large size of the day cream.  I have a little travel size here which wasn't for sale when I checked online.