By now, you've already heard about oil cleansers but my latest find is Melting Cleansers too.  Below, I've shown one by Roger and Gallet, and another by Algenist.  You can find melting cleansers by Ole Henrikson, Goop, Omorovicza, and even ELF.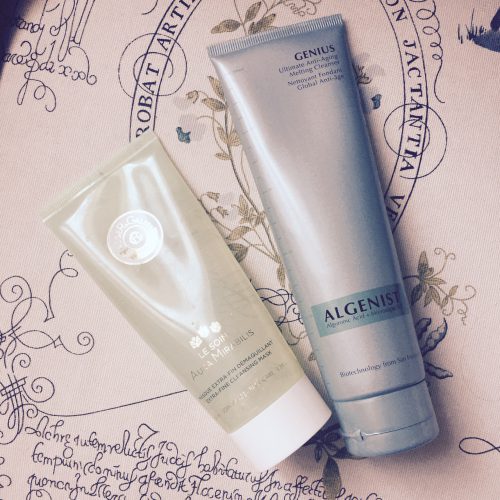 Both of the above are gel formulas that aren't as drippy as oils.  You apply them on to dry skin where they melt into oils and emulsify into a milky consistency when you add water.  The oil phase dissolves all makeup and then they wash right off.
They're good in theory, especially if they're supposed to melt into oils, which are great at really liquifying makeup.  My issue is that these don't really turn into oils.  Yes, they're easy to spread on your skin, but not as easy as oils are!  Because they're so stiff, I actually found it difficult to use these to take off any eye makeup, whereas I don't have an issue with this when I use a cleansing oil.
The only time I use a melting cleanser is either in the morning, when there's no makeup to take off, or if I'm going to go in with a separate makeup remover anyway.  Then I don't even apply the melting cleanser around my eyes and just put it on the rest of my face.  But if I'm going to use something else anyway, then what's the point?  I want all my cleansers to be good at removing makeup, because that's really what I need them for!