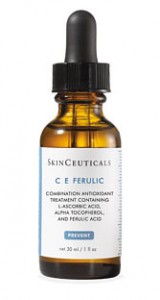 Last week I was cleaning out my skincare cupboard and getting rid of products I hadn't used in a while.  I usually keep products that I really want to use in there, but some how there are always little things that I haven't gotten around to using in the longest time.  The Skinceuticals C E Ferulic serum was one of those.  I was surprised to see a full bottle of it at the back of my cupboard.  I totally remember buying it and being excited to use it because Skinceuticals is an amazing brand and is recommended by dermatologists and skin spas throughout North America.
Vitamin C is great for the skin – it prevents damage from free-radicals (meaning it's a potent antioxidant, and it actually helps skin become and stay clear. Skinceuticals says that the Ferulic acid in this helps increase the capabilities of the vitamin C in the serum, and their products are usually science-based so I'm going to believe them when they say this serum beats all others.  At about $150 a bottle, it had better work!
So, I decided to use this serum again, and when I did I totally realized why I hadn't used it at all: this stuff stinks.  It smells like oily Chinese takeout, and no, I don't mean that in a good way.  The smell is just so gross that I threw out the rest of the bottle after just one application on my face.
I have to admit that my skin was clear and dewy in the morning, thanks to the clearing properties of the vitamin C, but just because this serum smells so bad, I would never use it again and wouldn't recommend it to anyone else either.