Anyone else have a lovely collection of bottles with droppers in their skincare collection.  Usually these are some of my favourite products in my skincare routine because they actually work.  My latest addition is the Skinceuticals' H.A. Intensifier.
As we age, our skin starts to have less and less Hyaluronic Acid in it which can cause it to not be as plump as it once was.  One way to take care of this temporarily is to put some Hyaluronic Acid on the skin so that it absorbs into your skin and it gets plumped up.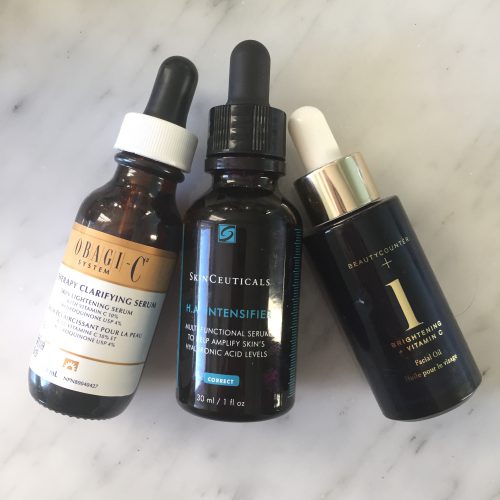 Skinceuticals H.A. Intensifier is a mixture of hyaluronic acid, licorice root extract, and binders to actually help these ingredients stay on the skin.  The dark bottle ensures that the ingredients don't get damaged by any sun exposure, and the formula is a light gel that absorbs into your skin so easily and immediately relieves any dryness.  I follow up with an oil or with my vitamin C serum if I'm using it in the morning.  It's so light that it doesn't interfere with anything.  
The Hyaluronic Acid immediately makes skin look plump and diminishes any fine lines that may be there due to dryness.  
Pick it up online or at your local dermatologist or skin spa.
$120.