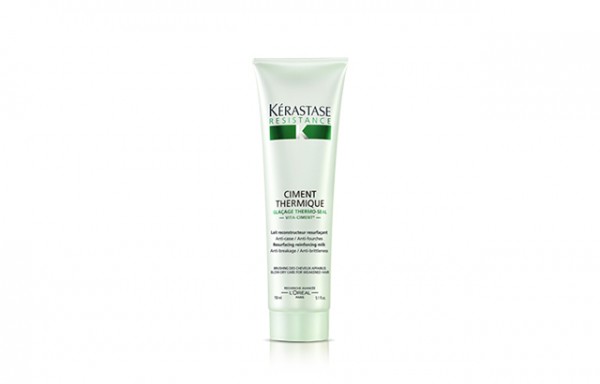 I'm slowly but surely turning into a Kerastase girl.  It all started with a trip to Jerome Salon where I was due to get a treatment applied by Alanna Widgiz, Educator for Kerastase Canada and hairstylist at Jerome Salon.  She got me and she got my hair.  Having curly hair herself, she could see how dry my hair was even though I took care of it, and she also could see that I needed something that would hydrate my hair and wouldn't weigh it down.
She pulled out Kerastase Ciment Thermique to apply before blow-drying my hair, and I said "Hey, I have that!"
"It's the best," she said.  "I even use it as an intense pre-conditioner and apply it before washing my hair. And you can't use too much of this because it's so light that it absorbs into your hair quickly."
I was sold – a product that also doubled as a deep pre-conditioner?  She was speaking my language.  I'm a huge believer in pre-conditioning whether that means soaking your hair in oil, egg yolks, avocado, or whatever you have on hand, before washing it out – when I do it, it makes a diffference (although the problem is that I just don't have time to do those kinds of things anymore).
So I've been using Ciment Thermique, and it's as great as Alanna says it is.  It's awesome to use before blow-drying your hair, but I like it just as much to use on hair that's being air-dried because it just leaves curls soft and defined without being too frizzy.
It's a light lotion that's very easy to spread through the hair.  It smells refreshing, and absorbs almost instantly so you can then judge whether you need more in your hair or not.
I'm going to have to go see Alanna again when I need more product recommendations!  You can get Ciment Thermique at Jerome Salon, or any other salon that carries Kerastase products, or online.
I should point out that Ciment Thermique is not a new product, but is in new packaging.  The new tube for it is sleeker and taller.  $43.