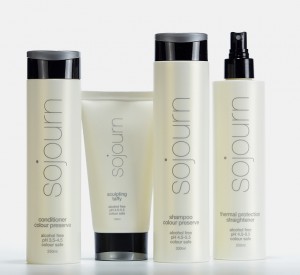 I've talked before about trying blow-drying products and I've finally found one that I love. It is Sojourn's Thermal Protection Straightener. Sojourn is the line created by Elan Sassoon, the son of legendary Vidal Sassoon. The products are meant for the salon but used properly can give us ordinary people salon-like results.
What I love about the Thermal Protection Spray is that it's absolutely light. My hair is super fine and easily weighed down and I find that I can't even feel this in my hair. All I see are the results.
Because this spray is so light, the best way to use it is before you blow dry your hair. Work in a serum and then before you blow dry each section use this spray. Blow dry immediately so that you can seal in the benefits of the spray.
The result is an airy shiny blowout that's super smooth.