A quick review of some things that I'm using right now.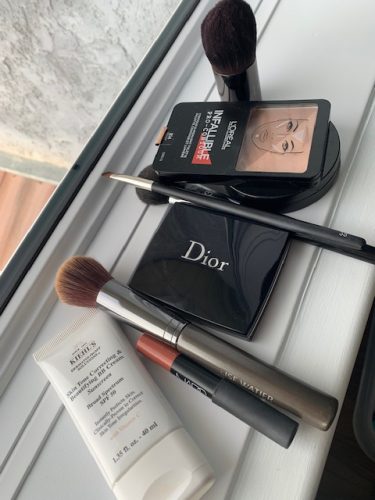 Kiehl's BB Cream with SPF 50. I like it because of the SPF, the colour is a bit dark, and it also looks oily on me as the day goes on, so I'm not sure if I'm going to keep using it. It's ok for once in a while but I do love my Maybelline Urban Cover which is also SPF 50.
Nars Velvet Matte Lip Pencil in Intriguing. My Lips But Better in a matte finish but it's not long-wearing. I do like it. I wish there was a sharpener in the back or that it was a twist up.
My favourite contour and highlight from L'Oreal Infallible – it's easy to use and natural-looking.
Under that is the Bobbi Brown Illuminating Bronzing Powder in Maui which is a warm pink with golden shimmer. I love it but the shimmer doesn't make it natural-looking.
Dior eyeshadow palette. I like the cream to fill in my brows and the shimmer on my lid.
What are you using right now? See any favourites? I know these are some that I've mentioned over the year, and I just keep coming back to them. Except for the Kiehl's. Not sure I'm keeping that.