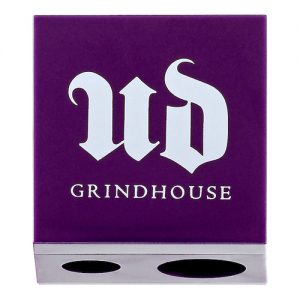 Why is it that I don't mind shilling out for the any high-end hair treatment but when it comes to the basic things, I don't really care for them as much?
Case in point: my eyeliner sharpener. I think I bought a cheap one from Shoppers Drug Mart 10 years ago and kept using it even though it was terrible. It kept breaking the pencils (which are really soft) and so I would run out of eyeliner so quickly. And even though I realized that it wasn't very good, I kept using it.
I finally bought a new sharpener today. It is Urban Decay's Grind House and I went for it because it has the slot for a thicker eyeliner if that needs sharpening. I have a few chubby gloss sticks so I thought it would be prudent to have that liner.
The sharpener is pretty good – it does the job although it doesn't give me a super-fine point. I'm happy with it and my pencils are now all in great condition (I went through my makeup collection and sharpened all my eye pencils!). I got it for $13.50 at Sephora.