We are big fans of Sothys Paris skincare over here – their formulas are rich and moisturizing and make skin feel so supple.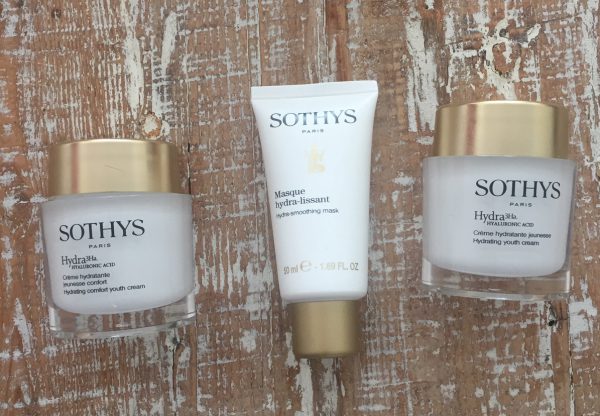 The latest range, Hydra 3Ha is perfect if you have dehydrated not dry skin.  Dehydrated skin is lacking moisture, while dry skin is lacking oil. I actually have dehydrated skin that's oily.  It lacks water content because of my age and the climate that I live in, but overall, it can look pretty greasy if I don't take care of it.  My challenge is to put moisture back into my skin and then seal it in so that it doesn't escape.
Sothys Hydra 2Ha range aims to restore moisture daily, with the help of 3 products.
The Hydrating Comfort Youth Cream ($149.93) has a creamy rich texture that's great for normal-dry skin.  I find that it really does create a barrier on the skin help to prevent moisture loss.
The Hydrating Youth Cream ($149.93) is much lighter and is more like a lotion that melts into your skin.  It is for normal or combination skin.
If you need an extra dose of moisture, or maybe you want to infuse your skin with hydration before applying any kind of treatment, you might want to try the Hydra-Smoothing Mask ($97.43), which is a super rich cream formula.  Apply for 10 minutes and then rinse off for immediate results.
Available in spas now, to find a retailer near you, visit www.sothys.ca.