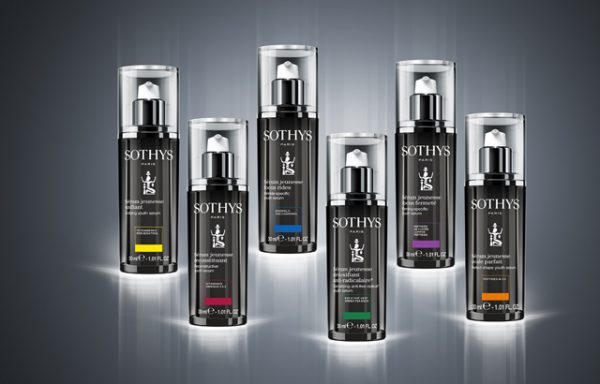 New for the summer, la Maison Sothys, Paris has a set of 6 new Youth Serums.  They're called Youth Serums because they're made especially to combat signs of aging.
The serums are:
Wrinkle-Specific: Helps visibly fill existing wrinkles, smooth the skin surface and limit signs of ageing.
Detoxifying anti-free radical: Protect the skin against free radicals and optimise cell renewal.
Reconstructive: Envelopes the skin and intensely nourishes it, bringing greater density and vitality and improving all the signs of ageing.
Firming-Specific: Helps to limit skin slackening to tone, firm and visibly lift the features.
Unifying: Helps to reduce the appearance of colour imperfections and all types of pores, and to visibly smooth wrinkles on the skin surface.
Perfect Shape: To reshapes and protects the facial contours, and smoothes the décolleté.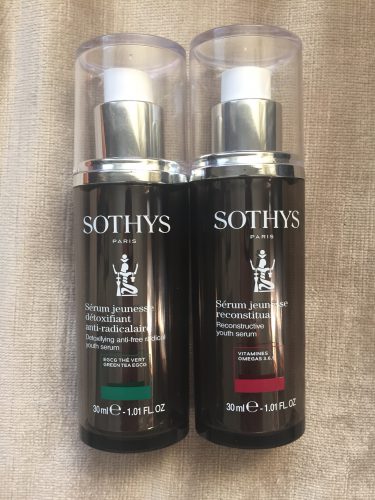 I have the Detoxifying and Reconstructing Serums – chosen for me so that I could have a serum with antioxidants, and one that could intensely nourish and hydrate my skin. Sothys says that it's best to use the serums with their moisturizers, and that may be the case for people with dry skin, but I find it more useful to use them on their own because my skin tends to be so oily.
The serums are light and fresh – they absorb into your skin and work well with makeup and susncreen.
The Detoxifying Serum have dandelion, green tea, and prickly pear extracts and a more glowy texture for refreshed skin.  It has more of a gel-serum texture and is super light on skin.
The Reconstructing Serum has hyaluronic acid, Ellagic acid, and omegas 3,6,9  to nourish and plump skin.  It looks and feels like a lotion and feels more moisturizing.
The serums can also be used together, of course, to gain multiple benefits.
All the serums actually have different ingredients to help the skin in different ways. The best thing to do is to head to a Sothys salon to find out which serum is the best for your own skin type.
$132.50 at Sothys Institutes and spas across the country.