Truly, the face mask trend sees no sign of fading, and as someone who's been using masks for the past twenty years, I'm glad that they're finally in the main stream.  One of my fondest memories is hosting girls night in nights where my guests try on different masks and sort through makeup and just chat.
One of the most luxurious masks that I've come across is Fresh's Rose Face Mask, which has actual rose petals in it and smells absolutely divine. (Below is a travel size tub of it – the full-sized tub is much larger.)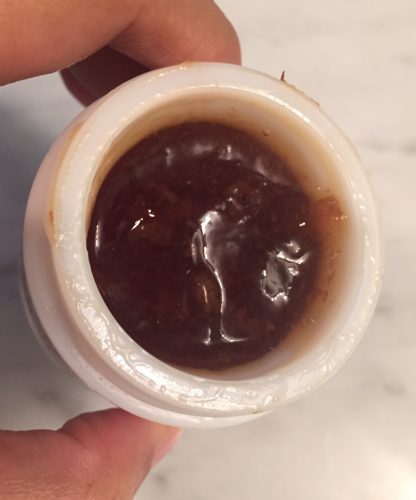 You can see that the mask looks like a gel with bits of petals in it.  It's a glycerine base, which turns out to be not that special – glycerine is readily available at the drugstore, but it's quite stick on its own so one would never apply it directly to one's skin.  However, it's great at attracting moisture to the skin which is why it's normally used in moisturizers.  Having it in a mask that you wipe off is great because the moisturizing properties seem to stay with the skin and make it touchable and soft if it's dry.  It's also something that's fresh and suitable for all skin types.
Now, the mask above retails for $75 for 100ml.  Meanwhile, The Body Shop has a British Rose Fresh Plumping Mask which is similar, rose petals, lovely smell, and all.  Theirs is $28 for 75ml and is very similar.  If you're into masks and want something moisturizing and relaxing aromatherapy-wise in your collection, then I suggest you take a trip to The Body Shop.