I love leave in conditioners.  I've been using them for at least a decade, and I find that they help condition hair and for the most part make it look better.  A good leave-in should make hair shiny without build-up, and help curly hair curl better, and straight hair stay straight.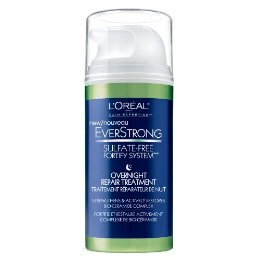 Spray leave-ins are usually lighter than creams, which are better for coarse and very dry hair.  When looking for a leave-in, try to pick one without silicone in it.  This can build-up on the hair and leave it brittle.  Leave-ins are usually followed by other styling products, which usually do have silicon, and choosing a leave-in without this ingredient will help you control how much silicon you're actually putting on your hair.
Although my hair is quite fine, I do prefer the creams to the sprays. I find that they work better than are more intense, which my dry and curly hair definitely needs.  Here are two new cream leave-ins that offer results.
L'Oreal EverStrong Overnight Repair Treatment.  First of all, this treatment smells amazing, which made me look forward to using it.  I used it at night as directed once or twice, and no, because of the tiny amount that they recommend you use, there was

no residue left on my pillow.  What I really liked doing with this is drenching my hair with it and leaving it in for a couple of hours.  It absorbs into the hair almost immediately, but with the amount I put into my hair, it was pretty wet and I wouldn't leave the house with my hair like that.  Upon washing my hair, I found it to be smooth, and silky – I also felt that it was protected from shampooing, which was useful!  I used this until the bottle was empty and I definitely noticed a lasting effect on my hair.  Smoother strands and less split ends which was just what I was looking for.  For a drugstore product, this really performs and does a great job.
Aveda Damage Remedy Daily Hair Repair.  This leave-in cream from Aveda doesn't have as strong a smell as the L'Oreal treatment, but it works too!  The main ingredient in this is glycerin which is known to attract moisture from the air, so this makes it a great leave-in conditioner.  Again, this was one that absorbed into my hair quite easily and didn't leave it sticky, limp, or greasy.
I especially loved using this to revive my curly hair in between shampoos and found that it did the job really well.  It worked better than water, or any other styling aid.  Again, after consistently using this, my hair had fewer split ends and was easier to deal with on the whole.
Purchase this from your local Aveda salon.