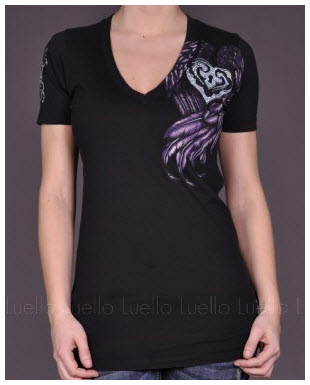 We love supporting Canadian retailers, and Luello.com is one such retailer.  Based out of Montreal it carries a variety of women's designer clothing brands. Their inventory includes over 25 brands, catering to the young and energetic.
One of the women's labels that Luello carries is Sinful. Designed for the aggressive but elegant woman, Sinful clothing conveys strength and beauty through pieces that are simple but edgy. In fact, the label has been described as a rock n' roll lifestyle with a sophisticated twist.   The cute tee that you see to the left is by them, and it's a basic but with a twist.  Pair it with a blazer for a night out or work, and you're comfortable and stylish with an edge.
So Luello is worth a look if you're looking for a way to express your energy and edge, but without going "over the top" a la Ed Hardy.  Lets remember that embellishments and graphics have been around for a while, and they're still worth having in your wardrobe.