Summer is around the corner (yes, I'm optimistic), and right now is the time to take advantage of seat sales so I know that many of you are going some place warm.  So here's a run down of the best and worst sunscreens.  There are some surprises on the list!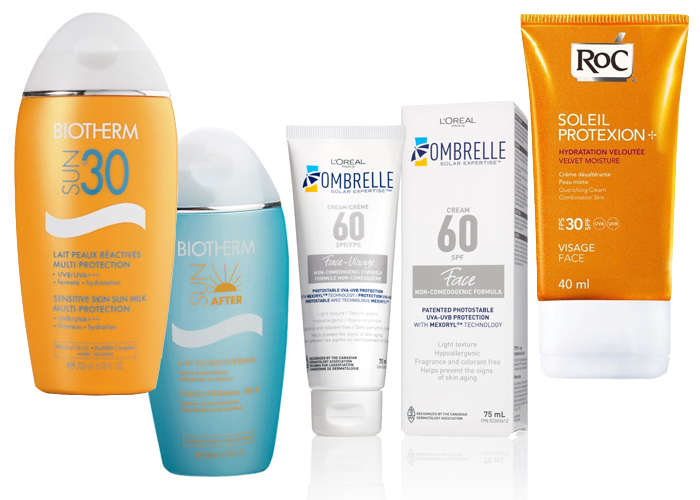 1. Biotherm Sun 30 Ultra Fluid Body Milk.
Biotherm's sunscreen is a milky formulation that goes on nicely, even looks matte, but leaves a slightly sticky feel on the skin.  It's not a horrible sunscreen, but on a really hot day, even a little bit of stickiness can be irritating.
2. Biotherm After Sun Oligo Thermal Body Milk.
Biotherm's After Sun Thermal Milk, however, is a keeper.  It's light, fresh, and absorbs into skin quickly soothing it.  The only down side?  It smells super strong, and you smell it for the entire day.  I wasn't a fan, but if you don't mind the smell, then you'll enjoy using this, especially after you've spent the whole day in the sun.  It's temporary relief for sunburn, but it's better than using a heavier formula.  This also has a slight shimmer to it which makes tans look amazing.
3. Ombrelle Sunscreens for the face and body.
Because I've tried some truly wonderful sunscreens recently, ones that don't work for me really stand out – and of course not for the right reasons.
This is where the Ombrelle sunscreens come in. I tried one for the body and one for the face, both at an SPF 60. I was not a fan for several reasons. The first and most important is that the sunscreens have a whitish cast to them which stands out on skin and looks horrible in pictures. It makes you not want to wear sunscreen especially if you already have a tan.
The second reason I'm not a fan is because though both the sunscreens have an almost matte texture, they are both rather sticky. Couples with hot weather, it just makes one want to take a shower and immediately.
L'Oreal sunscreens, including Ombrelle, have gotten amazing press which is what made me write the review. Though they have great ingredients including Mexoryl which apparently helped with the stability of the product and made it only available in Canada up until a few yard ago, there are better sunscreens out there that actually makes the wearer want to use them. I am hoping that in the coming summers there are new and better formulas for these ones.
4. RoC Soleil Protexion Velvet Moisture Face SPF 30. ($22)
This is possibly the best sunscreen of the bunch.  It comes in a smaller bottle and costs $22 but it's the best pick for moisturizing and having sun protection in one bottle. Use this on the slopes or on the beach, and you really can't go wrong.