It's spring!  Officially!
And if you're like me, you're beginning to think of applying sunscreen all over, and not just on your face.  
So I've decided to keep a sunscreen for all purposes in my purse so that I can apply before I get into the car, or if I get stuck in the sun all of a sudden.  I've been loving Caryl Baker Visage's Papaya Perfecting Daily Moisturizer which has spf 30 in it.  This light cream goes on watery but blends into a moisturizing lotion that feels refreshing on dry skin.  I use it on my face but it's also great for using on your hands because it gives them that moisturizing feeling but isn't greasy at all.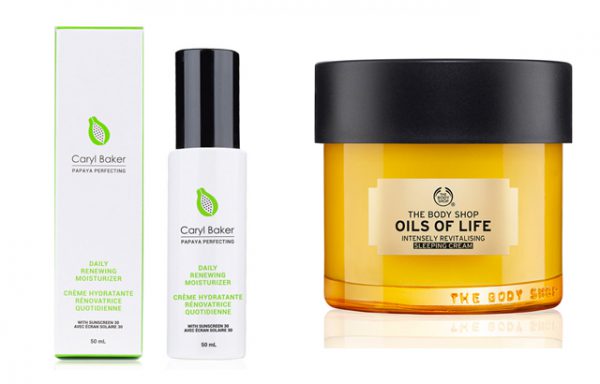 $49 at Caryl Baker Visage locations or online.
At night time, I'm going between my Skinceuticals Retinol 0.5 cream and when that gets to be too much, I'm turning to a more intense moisturizer.  I'm obsessed with The Body Shop's Oils of Life Intensely Revitalizing Sleeping Cream because it's such an innovative formula.  Made with glycerine, dimethicone and oils, the cream actually contains Aluminum starch in it which absorbs excess grease so that the cream goes on smoothly and doesn't feel greasy.  It won't even look shiny on your skin, and you can apply it and still get the moisturizing effect of the main ingredients in it. 
It provides immediate relief to dry skin, but you can layer foundation on to it, or you can go to sleep with it on and wake up with brighter skin.  
I love the scent of frankincense in the cream which reminds me of expensive perfume rather than just any old face cream.  
Pick it up at The Body Shop for $34.  Mother's day is coming, and this would be a great gift for mom!