Friends, I thought I would tell you that I am preparing for summer. The weather has been consistently nice for 4 days in a row, which means that I can trust it a little bit now and I'm indulging in summer beauty rituals.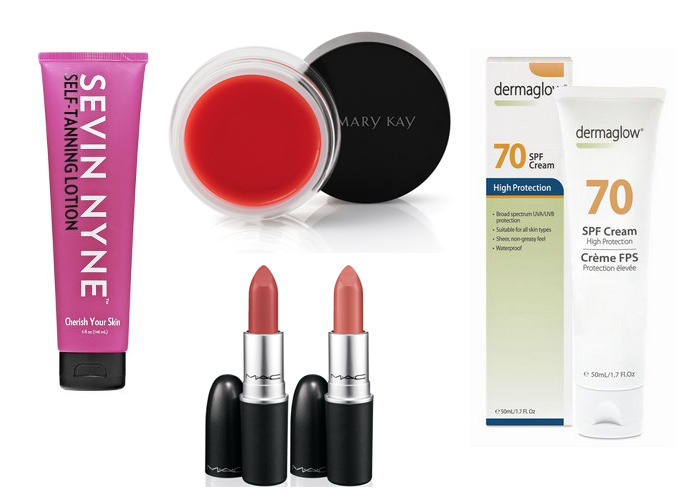 First up: self-tanning. Getting a real tan – i.e. baking in the sun – is something I don't want to do. There's no need for it, and I know that it's just going to contribute to skin damage later. A real tan is also too permanent… I have no control with how fast it fades and how dark it gets.
So instead, I'm going to fake bake, which gives me more of a glow that's pretty, not burnt. I've already tried Sevin Nyne, Lindsay Lohan's self-tan lotion, and I have a couple of mousses waiting to be tried. I also need to try some spray products this year – I know that I haven't always been successful with them, but recently a friend showed me her results when she used them, and her tan looked fantastic. If she can do it…
Check out my tips for applying self-tanner.
Second: get going with the pedicures. I give my feet a rest from polish during the winter months, but now I need to get my tootsies in gear! Foot scrubs and lotions, here I come.
Third: Stock up on sunblock. Yes, in the summer I wear it everyday and I need to make sure that I spray some on before I get into the car, because the sun shining through the car windows does a damage on my arms.  It's a difficult habit to start, but in the long run, it's one that will make a difference.
Fourth: stock up on bright colours.  There's nothing I love more than wearing bright makeup, and the summer is a great time to get away with anything bright.  Bring on the bright shadows, lipsticks, glosses, blushes, and eyeliners.  They all work – just not together, so try to remember to highlight one feature on your face at a time.
And that, for now, will be my walk into summer. What's yours? Is there anything that you're stocking up on or getting ready for?