The way to clear flawless skin lies in using a good serum daily.  Here are the best ones on the market right now, and why we love them.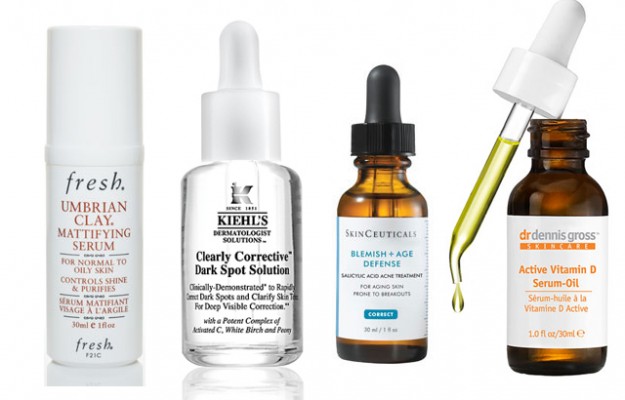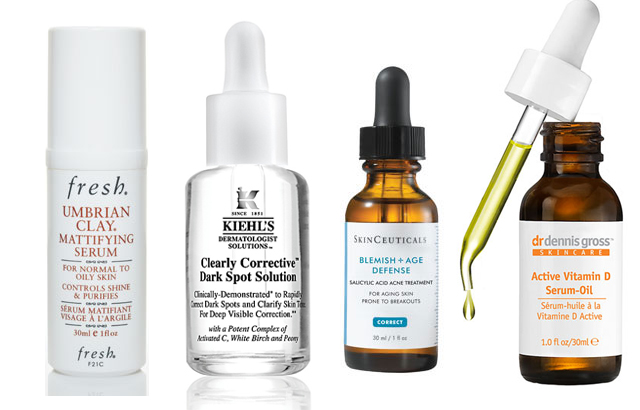 1. Fresh Umbrian Clay Mattifying Serum ($40, exclusively at Sephora stores).  Forget heavy silicon-laden mattifiers.  This serum uses hydrators that keep oil and shine at bay and make pores look smaller.  There's no powder and no gimick – the serum just works.  It provides 24 -hour antioxidant protection and moisturizes too. We're addicted to the fresh cucumber scent too which wakes us up every morning.
2. Kiehl's Clearly Corrective Dark Spot Solution ($54 at Kiehl's boutiques and Holt Renfrew).  This serum has activated vitamin C which has been proven to work on dark spots.  Plus, it's gentle on the skin so you won't have any stinging or other adverse reactions because of using it.
3. SkinCeuticals Blemish + Age Defense serum.  Finally, a serum that works to reduce blemishes, but also works on wrinkles.  This is the perfect serum for oily or combination skin.  It uses glycolic acid and salicylic acid in a light serum that prevents pores from bring blocked and exfoliates off dead skin cells revealing smoother, clearer skin.  I noticed a difference within a week, and I'm sure you will too.  Available for $90 at medical spas and dispensing doctors.  Find one near you here.
4. Dr. Dennis Gross Active Vitamin D Serum-Oil ($67).  This is a serum for those of you who have really sensitive skin and need something gentle.  This serum is in oil form so it's not overly acidic and soothes skin.  The oil contains Vitamin D, Retinol, and hyaluronic acid to moisturize and correct the skin.  It adds an immediate glow and makes skin look lovely.  We like using this one instead of our moisturizer!  Available at Sephora.