It's been a minute since I used a self-tanner.  Actually over a year, and it's been because I just thought that glow wasn't for me.  And then a friend came in with a beautiful tan and I had to get it for myself.  Luckily there's St. Tropez Gradual Tan One Minute which is a pre-shower product.
I'll let that sink in for a minute.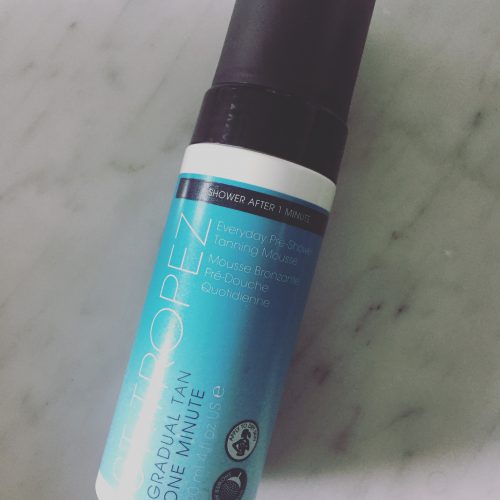 Listen to this: this is a self-tanner that you apply before you shower.  It's a foam that goes on smoothly like a lotion.  You rub it in, wait a minute (it goes by so quick), and then shower this off.  The tan works over the next 24 hours after you get out of the shower.  You'll smell it working – the active ingredient has a smell to it, there's no getting around that – and over the course of the day, you'll notice the colour change. If you want a deeper tan, just leave it on for 2-5 minutes, instead of just one, or apply daily.
This actually does work – I was skeptical – how do you wash something off and still have it work?  How does it stick to your skin in just a minute?  Guess what, it does and it works.
Because this is so quick acting, it's best not to apply it with your hands.  Use a tanning mitt or gloves to get a nice smooth application.  It's also fairly easy to get an application that doesn't streak because this is a gradual product.  Anywhere that you've applied too much product will likely even itself out when you let it fade, or blend out with subsequent applications of the self-tanner.
You can get this at Shoppers Drug Mart, beautyboutique.ca, London Drugs, londondrugs.ca, Murale & independent retailers. $28.