It's been a summer of ups and downs, but today I'm holding on to my tan thanks to St. Tropez.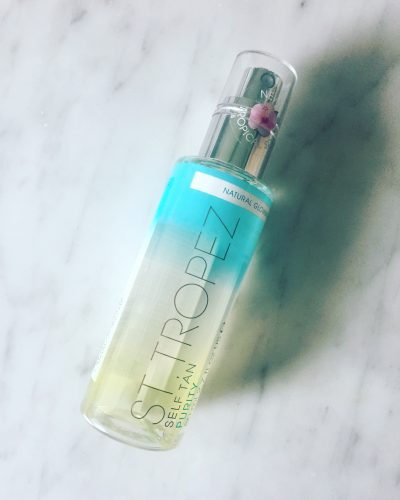 The new St. Tropez Self Tan Purity Bronzing Water Face Mist is literally the most easy-to-use tanner around.  They recommend using it on your face because you can wear it on top of moisturizer or makeup.  Simply mist it on like a setting spray, and the self-tanner ingredients do their magic throughout the day.  You can apply it everyday if you find that you like more of a tan, or just a couple of times a week if you like a lighter tan.
While it smells fresh and clean, because it's on your face, once it starts working and you actually start getting a tan, you'll find that you can actually smell it.  No matter.  I like that it's doing what it says it's going to do and I mist it on my face, neck, the tops of my hands and on other skin that's showing to get a nice gentle tan that I don't have to rub in.
Available at Shoppers Drug Mart for $39.