Recently I was gifted the Stella by Stella McCartney perfume in the form of a gift set. I received the Eau de Parfum and the Body Cream and the reason I got them was that I had mentioned that I love the way that the perfume smells.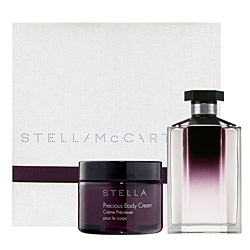 The perfume is a mostly rose-based scent that has a touch of sweetness in it and lots of freshness. It's a feminine young rose rather than one that smells old and like your grandmother.
The only thing is that the body cream doesn't smell like the perfume and neither last long on the body! I have the Eau de Parfum and I have to say that I've got Eau de Toilettes that last longer than this. If you've ever sprayed one of the mini Stella's on yourself at Sephora, you should know that the perfume in the small bottle smells different than the perfume in the big bottle.
In any case, it's a beautiful perfume and if you can deal with its evanescent nature, you might like this scent. I still spray it on everything.