Check out my picture of Stila's new All Over Shimmer Duo in Kitten.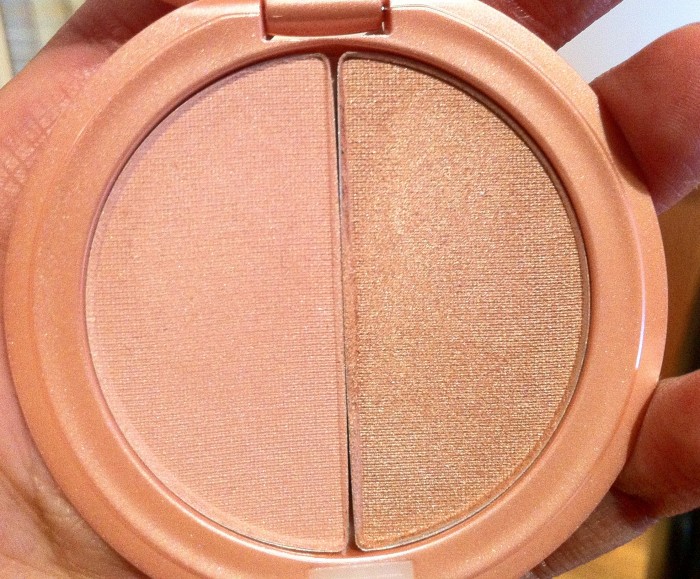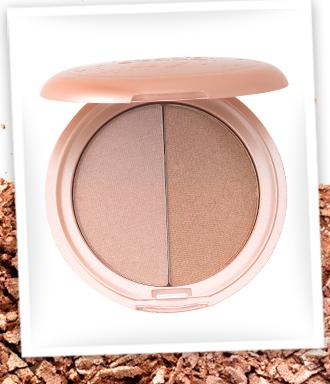 At one point, Kitten eyeshadow by Stila was in everyone's makeup bag as their holy grail of eyeshadows and highlighters. It was just the prettiest colour, and left the perfect soft sheen on brow bones and on top of cheeks. It was kind of like a warm champagne colour that verged on nude pink. This colour looks good on everyone.
Stila has since come out with Kitten lip gloss, eyeliner, liquid highlighter, and now: an All Over Shimmer Duo.
The All Over Shimmer Duo has two shades in it: a light shimmering pink, and a light shimmering beige.
The formulation of this powder cannot be beat. It is microfine, and feels like silk when you touch it. Just a tiny dab gives you tons of powder and shimmery payoff, so it's really easy to use without getting a frosty kind of look.
Stila suggests that you use this all over – your cheeks, eyes, for highlighting your face or your body. I like to use it as a simple highlighter, and will even put it on my arms and legs to give myself a bit of a glow. Because the powder is so fine and you really just want to use a tiny bit at a time, I like to use it with a fan brush so that I only pick up the smallest amount of colour possible. I also like using my fingers to blend it into my skin and get a natural looking glow
The All Over Shimmer Duo is $29 and available at Shoppers Drug Mart Beauty Boutiques.