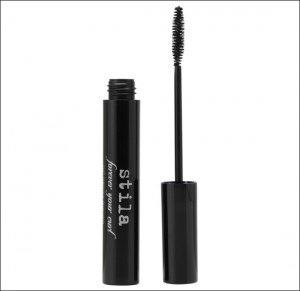 Stila's new Forever Your Curl mascara is their new, supposedly revolutionary formula that promises instant curl immediately and "perm" your lashes over time, eliminating the need for an eyelash curler while film forming polymer fibres wrap lashes and lengthen without fibres.
Uh huh. I've become sort of a curling mascara sceptic, as most of them make big claims and most of them don't work, especially for girls like me with super straight lashes. For me, this is mostly due to the fact that the hair strands are super coarse, and usually, the weight of the mascara itself uncurls my lashes before the mascara even has time to set.
Long story short, this product fails to live up to its exciting claims. Although I must say, the name of the mascara is super catchy!
Day one I tried it without curling my lashes first, to less than stellar results. The brush is very straight skinny, which is unusual for a curling mascara in itself, as they tend to have curved brushes or brushes that are thicker towards the ends. Surprise, surprise, the mascara did absolutely nothing for me. It honestly wasn't fabulous even as a regular, non-curling mascara because the brush tends to deposit way too much product on in some places, causing random clumping.
Day two I tried it on pre-curled lashes, which also didn't really work because the mascara dries too slowly. This is crap for two reasons, the first of which being that the more drying time there is, the more time there is for you to accidently blink too hard and ruin your eye make-up. The second reason is, if you have super straight lashes like me, the weight of the mascara will completely uncurl your lashes before the mascara sets, leaving you with some straight, some half kinky lashes. (not pretty)
Day three, I tried it on pre-curled lashes, followed by a heated eyelash curler after the mascara set. Also didn't really work because the mascara tends to clump up when the heated eyelash curler is applied, so I ended up with huge clumps of spiky lashes, which is not the look most women are trying to achieve.
Alright, I'm not going to pretend that I continued using this for Day 4 and beyond to test the "perming" capabilities of the mascara. I like my lashes to be pretty, curly and long, and this mascara doesn't do that for me in the slightest.
That said, if you have nice lashes that aren't super straight, like mine, I still wouldn't completely write this product off. Even a real eyelash perm doesn't hold for longer than 2 weeks with me, so it might be that my lashes are just too darn straight.
The 0.24oz tube is around $29CDN where Stila products are sold.