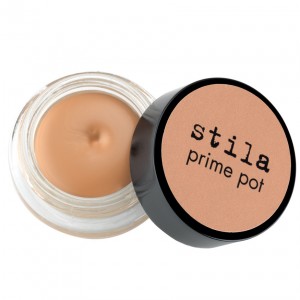 Stila is quickly turning into one of my all time favourite brands.
Recently tried their Prime Pot which comes in two colours and makes an amazing primer for the eyes, not just because it makes your eyeshadow stick and stay put forever, but also because first it camouflages any darkness and just makes for a nice clean look even without the eyeshadow.
The Prime Pot comes in two colours – Taffy (a light putty colour) and Caramel (a matte beige shade).  Caramel is the one I have and it is suitable for medium to dark skintones.  It comes on to your fingers easily from the pot and then you can smudge it on your entire eyelid.  I found that it's best to use your fingers with this product because it warms up on them and is easy to blend.  A concealer brush would work too, but it took more work to get it spread out uniformly.
Stila's Prime Pot is available on ebeauty.ca for $26.  Pick it up there and enjoy!  A pot will likely last you years, as I've had mine for a month or so and have barely made a dent in it.