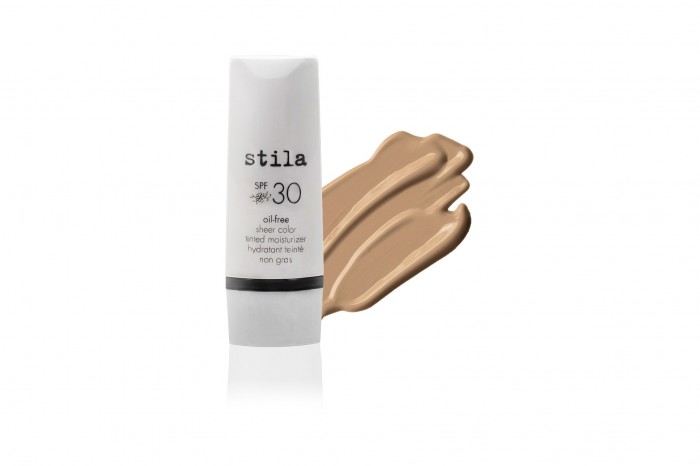 Among my makeup bag stand-bys is a tinted moisturizer.  It's the one product that makes you look polished without you actually putting on a lot of makeup, and tinted moisturizers do so much – they cover, moisturize, and if they're really good, they give you sun protection.
Stila's Oil Free version does all of the above!
I have to say that I've tried many many tinted moisturizers over the years, and this is by far, the most sheer one that I have ever used.  There is pigment, but it's only a tiny bit, so be aware of that when you purchase.  You may need a concealer to take care of certain skin imperfections, or you may find that this is great for the weekends.
I use it daily because it's so light that it's perfect for work.  You won't look overdone, and for me, that's key.  I also love that it has SPF, so I just smooth it on and I'm good to go.
I will say that this doesn't provide the most intense moisturizing, and sometimes I layer another moisturizer underneath this.  I'm okay with that though.  I'd rather have less than more, because more is what I can always add myself.
I got mine from eBeauty.ca where it retails for $47.  It's definitely cheaper than the Bobbi Brown oil free tinted moisturizer, and I like that I save on the sunscreen.  I've been using my tube for over a month, and it's still got lots left.
When picking a colour, don't stress it: the shades are so sheer, that it's hard to make a mistake.
Also, can I add: I feel as if I've been obsessed with Stila products forever.  They make makeup that's foolproof and easy to wear, and I love that.  I also love that they're still doing what they did best: providing face products for every girl.