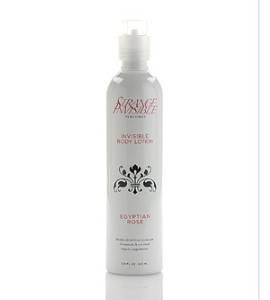 Strange Invisible Perfumes is an indie perfume line based out of California that makes all natural perfumes. The essences are organic, and the product is hydro-distilled. I've heard a lot about the line and their interesting creations, and perhaps you have as well, but this body lotion is the only one that I've tried. The website says that they are currently reformulating their lotions so this is not available right now, and I got my bottle last year, so I am reviewing the old formulation. You may still be able to find it at stores that carry this line.
Of course, a body lotion made my a perfume house is going to be something quite special and unique-smelling so lets start with the scent part first.
The Egyptian Rose scent is all rose – it's true and clear and slightly dirty just like a real rose would be. The rose is distinct but there are also a touch of spices in the scent. There are peppery and herb notes that keep the scent fresh, and though it's a strong rose, it veers slightly on the masculine side, though no man I know would ever wear anything so blatantly floral.
The lotion's formula is something else. It has absolutely no greasiness, to the point that I would almost say that it's matte. It absorbs into skin very quickly though it's not watery at all. The scent is the only thing that will remind you that you even wore this lotion. I have to admit that it's not the most moisturizing lotion that I've tried, and if I put it on my hands, I follow up with another lotion later in the day. I wear this lotion for the scent and for the scent alone, and perhaps in the reformulation they will change this to something more moisturizing and luxurious in feel.
If you love rose scents the way that I do, this is a must have. The lotion retailed for $40, and since they're clearing it out, you may be able to find it on sale for less than that. Because the lotion smells so strong – use it on your hands and the whole room will smell like a rose garden within a spice market – I use it sparingly. It has lasted me a long time since I only use a pump here and there and when I'm in a particularly feminine mood.