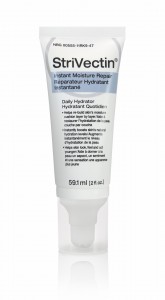 I've already written about ProActive, and how I loved it but it really dried out my skin.  The kit that I got came with a free sample size of their Green Tea Moisturizer, which they said was safe to use over their Repairing Lotion, but I found that the water based lotion did nothing to relieve my dry skin.
So I had to turn to something else.
That ended up being StriVectin Instant Moisture Repair, and what sold me was that the label said that it would instantly increase the moisture in my skin by 30% in the first hour.  My skin was verging on scaliness, so I had to try this moisturizer.
The result was as promised.  My dryness was gone in one night, and continued use has made my skin really soft and smooth.  This moisturizer isn't as creamy and luxurious feeling as one from a luxury brand, but it does get the job done and it's worth having on hand especially if you're going to be trying a new skin treatment that could make your skin really dry.
Pick this up at your drugstore and stock up – I'm sure that it's also going to come in handy during the summer to treat sunburned skin.