When it comes to reading about a "melting serum" you kind of have to see it to believe it, so here's a picture.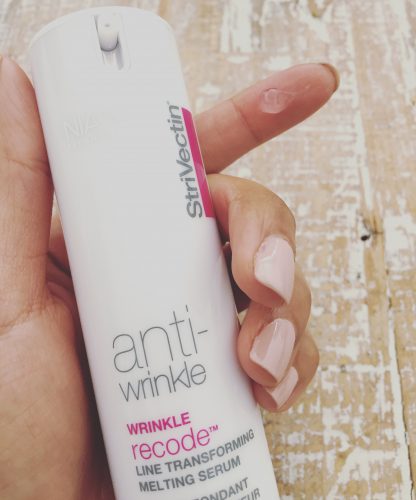 This Strivectin serum comes out of the bottle really thick, and then melts into a slick serum when you rub your fingers together. It's shiny, clear, but very shiny and it just smooths out any wrinkles or texture on your skin mostly by providing it with tons of hydration.  
Aside from providing tons of hydration which can help improve the look of wrinkles, this serum also includes niacinamide, antioxidants, and a peptide to improve the look and texture of the skin through preventing antioxidant damage.  
You can get antioxidants and other anti-wrinkle ingredients in other products, but this is the only one that I've tried that has a nice thick texture that makes skin look better immediately.  Your skin will be plump and hydrated and will stay that way thanks to the thick texture of the serum, and most serums and creams, even, are too thick to make a lasting impact on wrinkled skin.
Pick it up at Shoppers Drug Mart Beauty Boutique for $79 right now.  Normally $99.