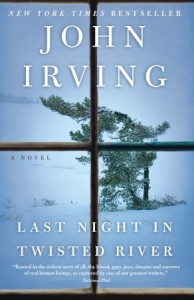 If you know me, you know that I don't really read chick-lit, no matter what the weather.  What I love is a good book that I can sink my teeth into, and this time round, it has been Last Night in Twisted River by John Irving.  This book is now available in paperback, and I highly recommend that you pick it up!
John Irving is a phenomenal writer and I can't believe that I hadn't read any of his books yet.  You may be familiar with his book The Cider House Rules which was made into an Oscar-Winning movie!  This man knows how to weave a tale.
Last Night in Twisted River is an amazing book.  It's about a young man and his father who live in a small logging town called Twisted River.  After the boy kills the sheriff's girlfriend by mistake, the boy and his dad have to run from the sheriff… for the rest of their lives.  The book follows them on their journeys through different towns and cities (including Toronto!) and we see them grow old despite being on the hide out from their old friends in Twisted River.
If this book was a movie, it would be a drama.  We're not talking about The Fugitive here.  This is deeper and slower, and overall a great read because it's deeply engaging.
Pick it up and read it on your summer travels – I guarantee that it'll make any plane ride go a lot faster.