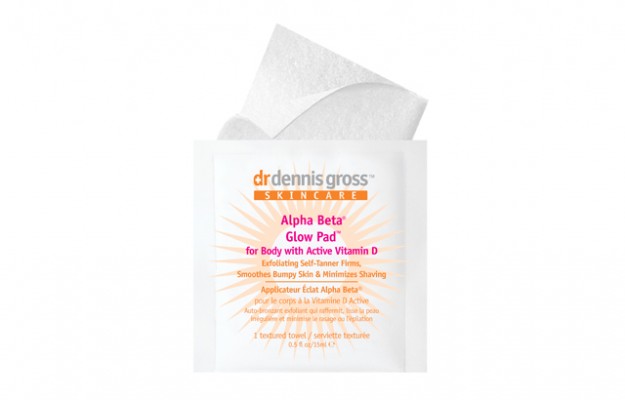 Nothing makes me like I'm ready for summer than a nice fake tan. It makes me golden and like I've spent a day at the beach, but without any sun damage. Plus, a tan makes you look more toned and healthy, so it's a win-win no matter how you look at it.
I've usually used gradual self-tanners, but after trying Dr. Dennis Gross's new Alpha Beta Glow Pads for the Body, I'm officially hooked. These are large pre-moistened towelettes that are soaked not only with self-tanner but also with glycolic and lactic acid. Used over the body, they visibly reduce ingrown hairs and any other bumps on your body because they're helping your skin exfoliate quicker. I found that even the Keratosis pilaris on the back of my arms was greatly reduced after using the Glow Pads once or twice a week.
As for the tan – well these work for that too. I noticed a visible glow after using them once, and I was able to maintain that if I kept using them at least once a week. I was more than happy with those results, but if you want the glow to be darker, just apply on consecutive days until you're happy with the colour you get.
Because the towelette is pre-moistened and there's no tint, you can't see where you're applying, but the solution is quite wet so you can definitely feel whether your coverage is uniform or not. I wait for the solution to dry on my skin, and then apply a light lotion on top so that I can be absolutely sure that everything is blended well.
Pick these up for $59 (for a box of 8) at Sephora, and after using them, you'll definitely feel like you're ready for the warmer weather and the clothes that come with it.