I'm sorry, but the one summer look I'm hooked on?  Glowy skin that looks healthy and full of life.  It's just not something that works during the winter – it's not polished enough for the season – but in the summer, it's just the way to go.
Here are my favourite products to help you get the look – some are treatments and some are topical only, but they all work, so mix and match those that work for you!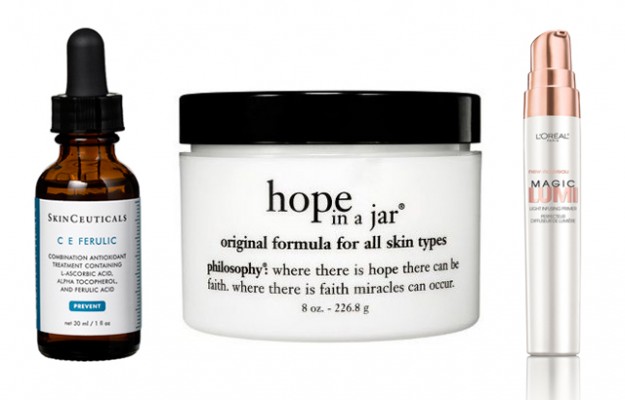 1. SkinCeuticals C E Ferulic.  One of the products that really put SkinCeuticals on the map, this is a potent antioxidant, and the only one I know of that blends vitamin C, Vitamin E, and Ferulic Acid all in one formula.  The powerful serum will lighten dark spots and even prevent new ones from forming.  Ferulic Acid has been shown to protect against sun damage, so with continued use, this will protect skin from forming new age spots.  It really works – you'll see the difference in one use.
2. Moving from a serum to a moisturizer, I tried Philosophy Hope in a Jar Original Formula.  Do not believe all the other reviews because this moisturizer is phenomenal!  Really, this is a lactic acid treatment which means that it will slough away dead skin a little bit at a time.  The moisturizer is more of a treatment, and that definitely has to do with why some people don't think it's that great.  I agree with some of the disgruntled comments – this is not a very moisturizing moisturizer, and it does smell pretty weird.  I think it's almost like sour oranges, whereas some people have compared it to sour milk.  Sour milk actually makes sense because that has lots of lactic acid in it!  So if you need major moisturizing, you're going to need more than Hope.  However, if you want clearer and then more glowy skin, this is definitely going to do it.  The treatment just reveals new brighter skin that will then look healthier.
3. Both Vitamin C and lactic acid can cause some irritation, especially if you already have sensitive skin.  So, if it's a quick fix that you're after, try L'Oréal Paris Magic Lumi Light Infusing Primer ($13).  For those of you who want luminous skin without wearing makeup or using irritating lotions, this is going to be your new best friend.  L'Oreal's new Magic Lumi is a glowy silicone-based serum that is infused with a slight silvery shimmer so that it reflects light and thus makes skin look clearer.  Because of the shimmer, your skin is obviously going to have a glowy look, and I found this to be just the product that I needed for the weekend.  I even like mixing this with foundation, but if you decide to do this, be aware that the white shimmer in the primer will make the foundation look half a shade lighter as well.  It's not a huge deal if you're blending well, but definitely something to be aware of.  I also found that this wasn't the best primer.  Silicone generally doesn't work that well on my skin, and this one didn't do a great job of absorbing oil; however, I did like using it on its own because thanks to the shimmer, you couldn't really tell when my skin got oily!  It looked nice and glowy all over, anyway.