This is a time to ditch your heavy amber-laden summer perfume and go with something lighter.  Here are three that I have in constant rotation this summer: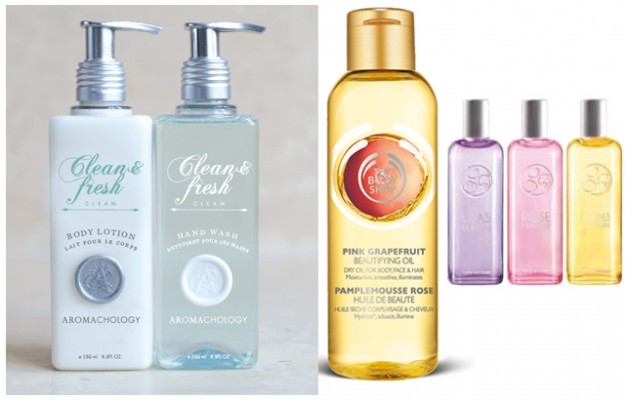 1. Aromachology Clean & Fresh.  This scent smells just like the fresh soap.  It reminds you of fresh laundry dried in the sun.  The notes are a mix of citrus, green, lemon, mandarin, grass, and linens.  There is not even a hint of sweetness so the scent won't bog you down as it wears.  My pick from this line is the home fragrance candle.  Even if you haven't done fresh laundry – your house will smell as if you did and it's a wonderful smell. $22 each at MyAromachology.com.
2. The Body Shop Beautifying Oils. This is a brand new range of oils from The Body Shop and they come in a wide variety of scents, so there's something for everyone within them.  The oils are lightly scented dry oils made of natural ingredients, so they not only make your smell good but leave skin luminous and healthy-looking as well.  Right now they are Buy 1 Get 1 Free too!  ($14 each).
3. Yves Rocher Un Matin Au Jardin collection.  If you like light fresh scents, then you have to check out this collection.  I love the Fresh Rose (Rose Fraiche) myself, but the Purple Lilac and Citrus Flower are also lovely.  These are very light, so I wear a few sprays in the morning, but by the end of the night, I can still smell them so despite being light they are very long-lasting!  There is also body lotions and body wash in this collection, but I found the scent in those to be negligible so they aren't even worth picking up for layering.  The eau de toilettes are the best, and you can layer your scents using those.  Available at YvesRocher.ca for just $32 for 100ml bottle of Eau de Toilette.