Ok, so it's hot outside and you need to take care of the skin on your body so that it looks its absolute best.   I've cracked the code on making your skin look amazing and here is what you need to use.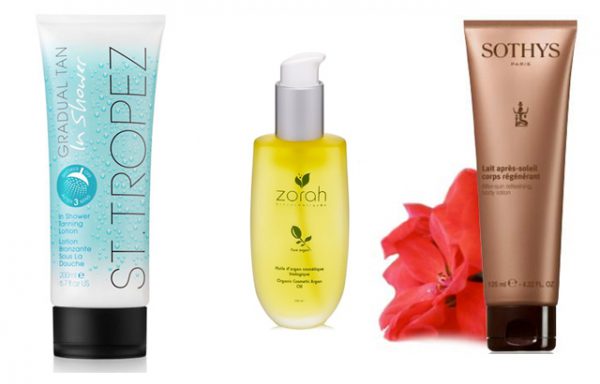 St. Tropez Gradual Tan In Shower Lotion.  You want a golden brown hue but without incurring any skin damage and trust me when I say that using a self-tanner is a total game changer.  I use it even though I'm naturally tan, and it just makes my skin look healthier and makes me look more svelte.  A gradual tanner is key because it doesn't ever get too dark, it doesn't streak, and you have more control over the colour.  St. Tropez's In Shower Lotion is now available in a medium hue (if you want it to work quicker) and it takes the guess-work out of self-tanning.  Just put it on in the shower with the water off, wait three minutes (I count to 180, put a mask on, scrub my feet) and then rinse if off.  There's actually no smell with this one!
Use a body oil.  I love Zorah Cosmetics' pure argan oil.  It's organic and made in Canada, and it goes on so smooth. I apply it to damp skin and let is soak in while I do my hair.
Use a body cream on top of your body oil.  Sothys Paris After Sun Refreshing Body Lotion is unreal.  It's smooth and creamy and has a blend of glycerin and oils to help skin looking its best.
Don't forget to use the sunscreen of your choice before heading out in the sun!  Keep some right by the door so you don't forget, or apply it first thing in the morning so that it becomes a habit!