It is so important to wear sunblock in the summer, especially on your face if you want to prevent wrinkles and sunspots. That's why we tested sunblock on our face, and picked our 3 favourite ones.  These all absorbed into our skin (eventually) and that meant that makeup went on top more smoothly and we were able to get sun protection for the entire day.
I prefer to use as high of an spf as I can find because that means that I'm protected for longer even though I realize that the sunblock itself will break down in an hour.  I feel like I'm better protected.
Also, without fail, I do NOT reapply sunblock to my face throughout the day.  I just don't have the time to wash my face and then redo my makeup all over again.
Here are my favourite sunscreens for the face, and why I think that each is a winner.  Stay with me to the end to find out my very favourite oen – I just seem to keep reaching for it again and again!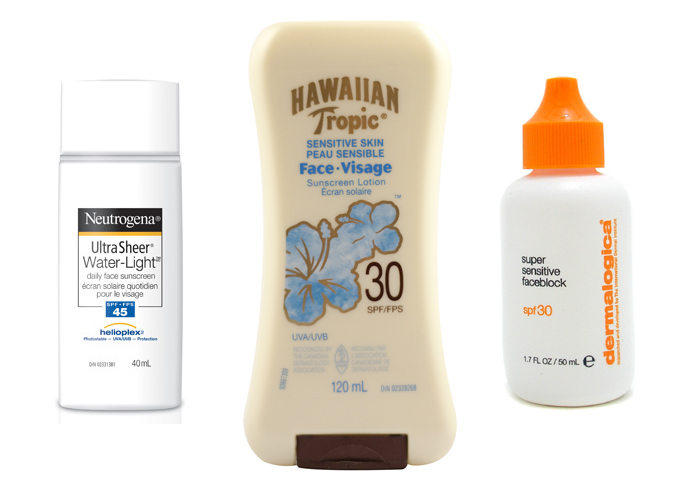 1. Neutrogena Ultra Sheer Water-Light Sunscreen Review:
Neutrogena's Ultra Sheer Water Light Sunscreen is great because it is water based instead of being oil-based and dries to a totally matte finish in a matter of minutes. It seems as if the sun blocking ingredients are in powder form, because the instructions tell you to shake well before applying the product.
The texture of the sunscreen is indeed watery. It smoothed into skin quite easily and seemed to absorb quickly. I did not get a whitish cast or residue on my tan skin, which is a first!
Makeup on top then applied super smoothly because the sunblock does have silicone in it. I didn't need a primer and just used a tinted moisturizer on top of the sunblock and I was good to go! The finish was matte, and my skin looked glowy a few hours into the day, but overall I'm really impressed with this sunblock and it's been my holy grail for products to use on my face.
I use the SPF 45 version,and it retails for about $14 for 40 ml. At the rate of using it daily on my shoulders and up, I've gone through half the bottle in a matter of weeks, but because it's so good and so sheer, I'll definitely be re-purchasing.
2. Hawaiian Tropic Sensitive Skin Face Lotion:
No seriously. Try a Hawaiian Tropic sunscreen. I know what you're thinking. Their sunscreens are usually thick and greasy and they have that scent that's unmistakable and lets everyone know that you are wearing sunblock.
But then I tried their Sensitive Skin Face Lotion with SPF 30. This was entirely unscented, and was super light and non-greasy. it absorbed into my skin within minutes and then didn't leave a white residue either.
I did, of course, use makeup on top of this and didn't have any problems. I did find that because I was wearing this extra lotion, my face needed some powder to take away shine, but I'm a fan of powder as it is.
Best part: this is available at the drugstore for $10.99 so you can use as much as you want with no guilt.
3. Dermalogica Super Sensitive Skin Faceblock SPF 30 Review:
Sun protection is a must in the summer, and one way to make sure that you have something that really works for your face is to get your sunblock from a brand that your regular skincare is from. I've always loved Dermalogica products and use their cleansers all the time, so I really wanted to try their sunblock for Sensitive Skin.
When I first applied the sunblock (I was using SPF 30), I was totally prepared to hate this. It seemed to be almost light blue in colour as I rubbed it into my skin, and when I was done rubbing it in, it seemed to me that I was left with super greasy skin. But I went on with my day, and started to apply my makeup, and when I was done doing that, I realized that the sunblock was totally absorbed and the oily residue was gone! I was pretty surprised, and realized that there wasn't even a blue or white residue left on my skin, even though this sunblock does contain "physical sunblocks" which can usually be seen on tan skin.
This comes in a small kind of bottle, but it's perfect for throwing in your purse and taking to the beach.
So my favourite sunblock was actually the cheapest one! The Hawaiian Tropic sunblock! I love it because it's a cream and that makes it easier to apply than the watery Neutrogena and Dermalogica lotions.