You'll be surprised at these sunscreen reviews and which brand has the best products. I was on a mission this summer to try all the sunscreens I could and stick to the one that I liked the best, so here are some honest reviews of the six that I tried. They're all easy to find, so you won't have any trouble finding them.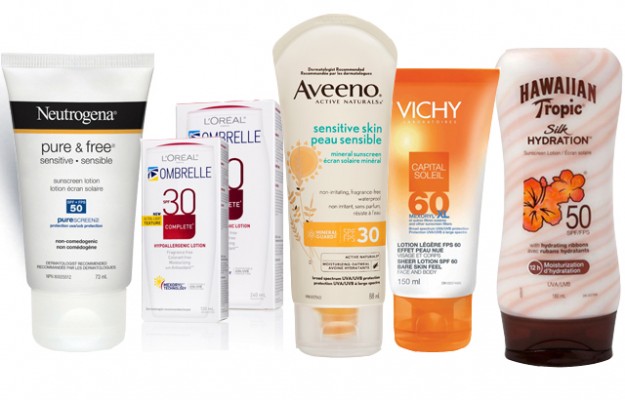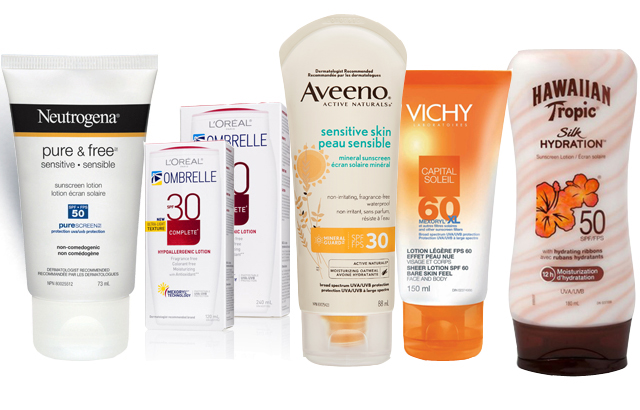 Neutrogena Pure and Free Sensitive Skin Sunscreen Lotion SPF 50.  This sunscreen lotion is new to the game, and offers a hypoallergenic option for those that need gentle sun protection.  It is fragrance and dye free, which is a boon for those of us that can get annoyed by overpowering fragrances.  It uses "Purescreen Technology" which is a physical form of sunscreen that prevents the harmful rays of the sun getting to the skin.  The technology has actually been around for ages – it's what they sometimes put in makeup to provide sun protection and coverage.  Pure and Free has a buttery cream-like texture and smoothes easily into skin.  It ends up being kind of a dry finish that feels almost like your own moisturized skin.  That said, it put a serious damper on our spray tan because the slight white cast took away from the golden tan that our skin had developed.  If you're of a darker skin-toned (or if that's how you're going to get in the summer), then you'll notice the whitish cast.  At an NC 42, we did, although it was faint.  If you're of a lighter-tone, you may not notice the white cast (it is subtle) or may not be bothered by it.  Check it out for about $15 at drugstores.
Ombrelle Complete SPF 30. Earlier this year, I reviewed Ombrelle sunscreen and I hated it. I'm happy to see that this year they've reformulated their sunscreens and they really are improved! The new version isn't sticky and completely white like the old one was. You do have to rub it in well to get rid of any of the whiteness, and there is some slight stickiness as you apply. That said, the sunscreen does blend into the skin really well, and give the sunscreen a few minutes to absorb into the skin, and the stickiness disappears leaving behind a smooth dry finish that's not greasy. Light years better than the old version, definitely check out the Ombrelle line if you want an affordable high quality sunscreen from the drugstore. Meant to be used daily, it's a moisturizing and water-resistant formula that I found to be very long-lasting. Pick it up for about $20.
Aveeno Active Naturals Sensitive Skin Sunscreen with Mineral Guard SPF 30. This is by far the best sunscreen if you're among those who have sensitive skin because it's specially formulated just for you.  The sunscreen is fragrance-free which is important for keeping skin clear of irritation, and it has minerals (titanium dioxide to be specific) which is a natural sun filter.   Because of all of this, Aveeno also remains a sunscreen recommended by doctors and dermatologists, especially if you want a kid-friendly product.  You'll find an absolutely non-greasy yet creamy texture which disappears into skin after a bit of rubbing.  With all that it has going for it, it's still not the sunscreen for me, because there is a slight whitish/greyish colour to it which dulls a tan or makes it noticeable that you may have applied sunscreen.
Vichy Capital Soleil Bare Feel Lotion SPF 60 ($29.95).   This lotion claims to be ultra sheer so that it feels just like your own skin.  It also has Mexoryl XL in it to filter out harmful rays.  It definitely delivers on the bare skin feel – the lotion is not greasy at all, and dries to a satin matte finish.  That said, it doesn't look like bare skin, which is a problem.  I had to rub it in well, and as quickly as possible to minimize the white cast, and even then I wasn't 100% happy with the final look.  I just didn't like the dull look that my skin had taken on as a result of using this lotion.
Another place you may want to look for an excellent sunscreen, is Mary Kay! I tried the Mary Kay Sun Care Sunscreen Broad Spectrum SPF 30 and was thoroughly impressed. This sunscreen really went on just like a body lotion.  It moisturized my skin and absorbed in completely without leaving even the slightest white residue.  The sunscreen gave me long-lasting sun protection without any fuss or muss!  The texture wasn't dry-touch like some of the other sunscreens that I've reviewed, but it wasn't greasy either, and I was happy with that.  $14 on MaryKay.com.
Finally, I turned to a tried and tested brand of sunscreen, and one that has been a favourite of mine for a long time: Hawaiian Tropic.  I know – it's the cheapest drugstore brand, easy to find, and so… it can't be the best, right?  Turns out that this is actually my favourite brand of sunscreen and the most reliable one.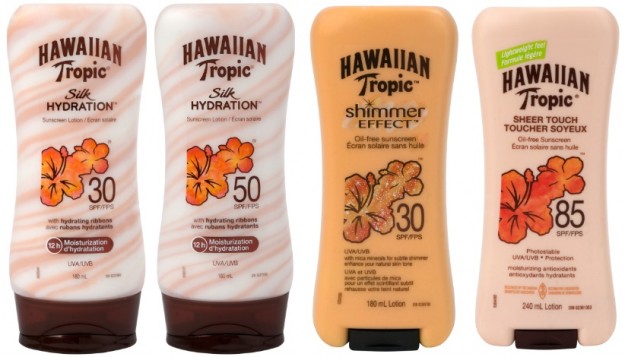 I tried their new Silk Hydration Sunscreen Lotion in SPF 50.  The lotion has ribbons of "body butter" running through a basic UVA/UVB sun protection.  What I love about this sunscreen is that it moisturizes, protects, and is completely and totally CLEAR!  Friends, this one has no whitish cast at all!  Not even a bit!  Therefore, I can apply liberally and not feel like I'm going to look like a ghost on the beach!  It's awesome!  This sunscreen is perfect for daily use and for vacations because it will absorb into the skin and only you will know how much sun protection you've got.  It's also waterproof.
Also check out their Hawaiian Tropic Shimmer Effect Sunscreen Lotion in SPF 30, which has champagne-coloured shimmer in it that leaves your body glowing.  I use it every day because I love how healthy it makes my skin look!
There's also the Hawaiian Tropic Sheer Touch Sunscreen Lotion in SPF 85 which has more of a silky dry feel and despite being SPF 85 it still doesn't have even a touch of a white tint.
After reviewing all the sunscreens, I feel like there's a lot of hype out there about special ingredients and a high SPF, but truly I need a sunscreen that photographs well and doesn't make me look like a wax statue.  For that reason, I have all the Hawaiian Tropic sunscreens in my bathroom and reach for them daily because they work and the formulae are fantastic.  You really can't go wrong with picking up any of their sunscreens at the drugstore, and you can't beat that they go on sale regularly.