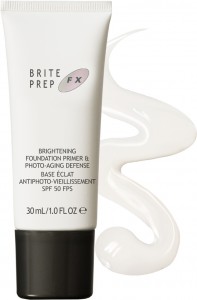 Traditionally, many magazines have said that you shouldn't spend more than you're able to on sunblock because then you'll cheap out on actually using it.
I totally agree with them – you need to use a lot of sunblock to not get burned by the sun, but there is a compelling reason to perhaps venture into the beauty counter department when it comes to sun protection.
That reason is that the more expensive sunscreen, especially that which is made for your face, is well-formulated.  It is not sticky, doesn't run, doesn't clump up, and feels like nothing on.
Now, sunscreens are also formulated with ingredients that make your skin look better in the long run.
Case in point is CoverFx's BritePrep Fx Primer.  It has an spf of 50 plus vitamin C so that your skin spots get lighter the more you use it!  Best of all, it has a neutral golden shimmery glow to it that your skin looks better than it really is.  It's a wonderful product to use under foundation or on its own this summer.  I slather it on my face, neck and shoulders and I get a unified glow on all three of those areas.
CoverFx is sold at Shoppers Drug Mart and at Sephora stores and retails for $45.